How to sell on Teachers Pay Teachers in 2022 (and why this makes you a better teacher)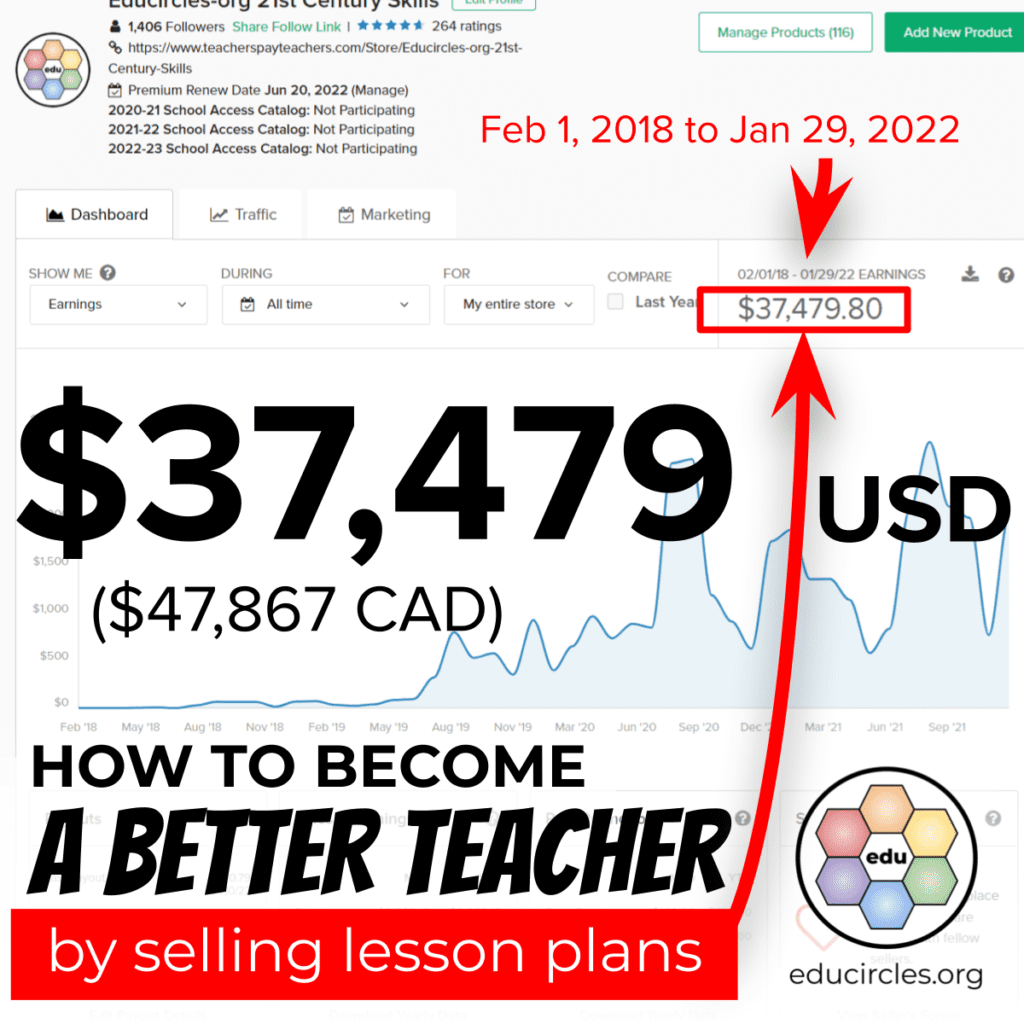 I've made $37,479 USD ($47,867 CAD) selling teacher lesson plans on Teachers Pay Teachers (TpT) from Feb 1, 2018, to Jan 29, 2022.
I post how much I make on TpT for two reasons:
To inform: If you sell on Teachers Pay Teachers, it's hard to know how you're doing because there are no benchmarks.
To motivate: In my experience, selling on TpT is not a get-rich-quick scheme. But, like anything else, by working hard and working smart, we might succeed and get to the top.
To put my money where my mouth is: I create goal-setting resources for students. Achieving any goal is a long-term process. This is me trying to achieve my goals. I also create Social-Emotional Learning resources. I firmly believe we need to teach transferrable skills as a way to learn the curriculum if we want students to be able to survive and thrive in a changing world.
The post cover image shows a screenshot of my TpT dashboard
You can see that in the beginning, I made very little money, but the sales are slowly growing.
And wow, is selling teaching resources a very cyclical and seasonal market!
Things to know:
I've donated $8,352 CAD to Student Mental Health charities.
I've given away over $825 USD to other teachers in the form of free TpT Gift Cards
The money I make gets reinvested back into the business of create more resources to help make the world a better place.
If you want actionable steps on how to increase sales on TpT:
Watch my YouTube series about how I create teaching resources.
Ask a question in the comment section below. Maybe I can help!
Most people won't bother to read this article.
It's too long. That's too much work.
But, if you're the kind of teacher to get excited by the information on this page, keep reading. I want to support you and your students.
I've started a YouTube series where I talk about how I sell on Teachers Pay Teachers
Why? Why not!
I've helped one teacher go from making a few dollars per month to over a thousand dollars per month selling on TpT.
I've helped another person get monetized on YouTube.
I've helped a few clients grow their business online.
I like talking about side gigs and earning a living from the internet.
Some people are visual learners, so I thought a YouTube series might help!
Plus, I'm hoping to connect with other teachers who sell on TpT to learn from their experiences.
If you like that sort of stuff, you can find my TpT teacherpreneur channel / playlist here.
If you have a question, feel free to ask me here.
Episode 1: Add a preview PDF
Also, a bonus tip in the video for those of you already doing this. Something to think about. It won't completely stop people from stealing your stuff, but at least it's a little harder!
Episode 2: What font should I use when making resources to sell on Teachers Pay Teachers.
You'd be surprised, but it actually matters. Choose the wrong font and you might be making more work for yourself down the line.
Also, stay away from Helvetica. Even if lots of businesses like to use it for their logos
How did I do it? (Make over $32K USD on TpT?)
I've been selling products on TpT for about 3.6 years (44 months).
In my experience, the best time to sell on TpT is in September (and August).
My best month was September 2021 when I made $2,817 USD
The runner up was September 2020 when I made $2,635 USD.
It's nice to see some work paying off because I'm constantly trying to improve my products based on constructive feedback from frustrated teachers.
In July and August 2020, I updated my Social Emotional Learning (6Cs) lesson plan products to get them distance learning / Google Classroom ready – I called this version 2.0!
BUT, then, I got a series of really low reviews from unhappy teachers about how confusing and poorly designed the slides were.
TpT only lets you have 30 files in a Google Drive folder product. My products all had more than 30 files so I split them up in order:
Folder 1 (i.e. files 1-30),
Folder 2 (files 31-60),
Folder 3 (files 61-72).
But this was confusing people because they couldn't find the slideshow files they needed. I had split up the teaching slideshow file into separate smaller slideshows so they could be uploaded to Google Classroom for remote learning. But these smaller duplicate slideshows were confusing people.
So, then I spent a good chunk of September 2020 reorganizing the files by intended use:
Folder 1 (Print and Teach): includes the main slideshow lesson and PDF copies of handouts,
Folder 2 (Edit the handouts): editable Google Docs versions of the handouts,
Folder 3 (Google Classroom): modified versions of files for use in Google Classroom assignments. (For example, smaller, cut up sections of the main slideshow lesson, Google slides version of handouts that are easier to click-and-drag.)
I call this version 2.6 (Phew!) Still learning and growing, but getting negative feedback is tough.
Even now, some of my products still get some tough feedback because it can be hard for teachers to find the files.
So my current goal is to update my products with a "FILE Table of Contents" PDF.
Basically it's just a list of files you need for each lesson with "one-click copy" links to the files themselves.
Bottom Line? It's a constant process of creating products, listening to teacher feedback, thinking about what's working and what's not, and then revising products.
Rinse. Lather. Repeat.
So, yes, you can still make money selling lesson plans on TpT in 2021.
And, yes, it's a lot harder than it looks… but, that's the point.
Making money online from a side hustle (or real job) is hard work.
This real-world challenge provides teachers with an authentic deep learning task that gives us an opportunity to work on our own 21st-century skills.
As we learn from our successes and failures in this side hustle, teachers experience struggle, despair, and eventually, hopefully, success (i.e. make some side-gig money.)
By integrating our own life lessons about character and growth mindset into our classrooms, we are better able to prepare our students for future uncertainties.
(If you have any questions, please ask me in the comments below.)
FULL DISCLOSURE: I sell lesson plans online about growth mindset and teaching transferable skills to students. Obviously I'm biased when I write this article. My end game is for you to buy my lesson plan bundle and to incorporate 21st century skills into your classroom program. But, that's a good thing.
You win because you save time and don't have to develop these resources. Just modify them to fit your teaching style and classroom reality.
You also win because these 21st century competencies are things that teachers need in our own lives. (I know this first hand because last year I was in an extreme mental health crisis and I'm in the process of re-writing my story. So, I know these are legit skills that we need to develop more.)
Your students win because these are skill sets and attitudes that they need – now and in the future.
Yes, this disclosure is obviously written with a biased voice. But, don't let that stop you from reading this article and forming your own opinions. Although I use Teachers Pay Teachers to sell my digital resources, I am not employed or affiliated with TpT. I do not benefit if you choose to create a TpT store and sell products on their marketplace.
Watch this video to find out why I'm so passionate about selling 21st Century Learning resources.
ABOUT ME: I taught Grade 8 English Language Arts in the OCDSB for 13+ years. Most of my teaching career was at Longfields Davidson Heights in Ottawa, Canada. In April 2018, my grade 8 students and I watched a school play about bullying which ended with the bullied kid coming to school and shooting everybody. That school play triggered anxiety and paranoia and I fell into a deep mental health crisis. It was the end of my classroom teaching career. I went on medical leave and then eventually resigned from the school on Dec 31, 2018 and canceling my Ontario College of Teachers (OCT) license on Jan 2,2019. I am no longer a member of any teaching union or organization. Although I have sold digital products for over a decade on different platforms, I only really started to focus on selling lesson plans on Teachers Pay Teachers since I resigned from my classroom job and needed a way to re-invent myself. At the time of writing, I have made over $40,191 CAD ($32,445 USD) and my products have been downloaded over 36,805 times. And that's nothing. The top teacher-seller on TpT has made over $1M. Yes. One million. She teaches kindergarten.
This article is written with two different groups of teachers in mind
You're a teacher that wants to know how to make money on Teachers Pay Teachers (teacherspayteachers.com) because you're looking for a side hustle.
I need to convince you that selling your lessons online will make you a better teacher.
If you are looking for a quick way to make money online, this article is not for you. (Too long.)
A side hustle selling your lesson plans online can help make you a better teacher
My goal at Educircles is to help make the world a better place.
I try to do this by helping students and teachers achieve their goals, stand up for themselves and for other people.
Oh, I also create digital products and lesson plans for teachers.
Right now, I use Teachers Pay Teachers (TpT) as my ecommerce storefront to sell my lesson plans about 21st Century Competencies. TpT is fantastic because it's filled with teachers and you can buy lesson plans from, well, other teachers.
TpT also provides an opportunity for teachers to create a TpT store and get a side hustle selling their lesson plans. Selling your lesson plans online is something that I think every teacher should do.
Why is selling lesson plans online important for teachers, especially experienced teachers?
The obvious answer that comes to mind is that teachers often have to spend their own money to buy resources for their classrooms.
So if you sell your own teaching resources online in a TpT store, you might make a little money to offset the costs of things you already buy for your own classroom.
That's a great reason, but that alone doesn't help you become a better teacher… it just helps you recover money you've already invested in your classroom.
You could also say that by selling lesson plans online, you're giving back to the teacher community, especially if you've used something from TpT in the past. (Apparently, more than 2 out of 3 teachers in the US have used a resource on TpT.)
Contributing to the collective knowledge of teachers is important, but I think there are even more important reasons why every teacher needs to spend some time selling their resources online:
Because it will improve your teaching practice.
No, seriously. Hear me out!
Teachers, especially experienced teachers, are at risk of becoming stagnant
There. I said it.
The longer we teach, the more at risk we are of getting out-of-touch and out-dated.
It is wayyy too easy for teachers to teach the same lesson over and over again, year after year.
I'm not talking about the tenured teacher only a few years away from retirement playing for the paycheck and pension. You know the one. They've been teaching the exact same novel study exactly the same way for over a decade.
(Why yes, that is the same novel that we did when we were students at school… why do you ask?)
I'm talking about all teachers. We're all at risk of becoming stagnant. Especially the further along we get in our careers.
There are lots of great reasons to teach from the same set of binder lessons, year after year.
Don't get me wrong. Teaching is hard work, and we don't have time to constantly reinvent the wheel.
My advice to new teachers is always to just focus on getting through that first year of teaching, and remember that it does get easier. Also, if you're lucky enough to get the same position next year (lol), you can teach the same program but improve things one unit at a time.
As teachers, we often have too much on our plate, so teaching the same unit gives us a little breathing room to figure out how to…
Teach new subjects that we've never taught before (but we just got suddenly assigned. Surprise!)
Figure out how to best support and differentiate our lessons for our students
Deal with challenging students (or parents, or colleagues, or administrators, or union, or provincial / state directives and initiatives…)
Help improve school climate and professional learning communities
Run school assemblies, student activities, and extra-curriculars
Help students develop emotionally, socially, as well as academically
Not burn out
Handle personal life obstacles
Maintain a healthier work life balance
These are all great reasons to teach the same lesson plan year after year and slowly improve on things bit by bit. We've all been there.
But there's a fundamental flaw with the teaching profession. And, I couldn't really see this flaw until I left the classroom.
If you asked me last year in January 2018 where I would be in five years, I would have said still teaching in the classroom, or maybe on the admin track to become a vice principal or principal.
And, then in April 2018, my life changed. I had to figure out how to make the worst thing in my life into the best thing. And I quit teaching in the classroom.
(Side note: I still haven't figured out how to make the worst thing in my life the best thing, but I know that it's a process. Learning more about social emotional learning and 21st-century competencies is helping me to keep a growth mindset.)
The flaw with teaching in the public school (at least in Ontario) is that once you get a full time permanent contract, you don't leave until you retire. (Or, at least, you don't plan on leaving until you retire.)
That's not a bad thing… unless your teaching doesn't evolve with the times as you move through your career.
It's ironic – we're asking people in stable, unionized jobs with pensions… to teach students skills to survive and thrive in a highly competitive globalized economy with not enough jobs and an ever-changing landscape.
Question: How can we teach what we don't know?
Answer:
By recognizing that there are things we don't know, and then actively trying to find out what you don't know.
By adding people to our team who have different perspectives and being open-minded and trying to see other points of view as equally valid as ours.
Teaching is stressful and lots of new teachers leave the profession and change careers.
Also, lots of great teachers burn out and leave the classroom.
And that was before Covid!
I'm not saying the ones who are left aren't great teachers. Quite the contrary. There are lots of fantastic, dedicated teachers who are at the top of their game.
Teaching, like any profession, is filled with
epic, passionate, caring and reflective individuals who are life long learners dedicated to their students…
and people who should probably not be teachers.
I've worked with both. I'm sure you have too.
A couple of important caveats:
Shout out to all of the new teachers who spend years doing supply work, work multiple jobs as they try to land a contract job. It's a hard grind and lots of qualified teachers enter a different profession because they weren't able to get full-time teaching work.
Props to the new teachers who are entering the profession as a second career and are bringing a wealth of life experiences from their first career.
High five to union solidarity for standing up and providing a voice for student learning and teacher members.
Solemn nod to all of the teachers who are facing life obstacles, personal challenges, unexpected curve-balls, and general hell. One day at a time.
So, how can teachers learn valuable life skills and see things through the perspective of someone entering an unknown job market and just trying to survive?
By entering an unknown market and just trying to survive… without having to leave the comfort and safety of your full-time teaching contract.
Hello, side gig!
Make money on Teachers pay Teachers (The Ultimate Deep Learning Challenge for Teachers)
"Deep Learning" is a buzzword floating around these days.
It's all about teaching "rich core content" to students and asking students to apply what they learn in real-world scenarios.
What's "rich core content"?
We're talking about learning concepts from the curriculum by doing larger projects about stuff that actually matters (as opposed to just reading the textbook – pages 36-42 and answering questions 1,3, 4a,b,c.)
I've sat in on professional development workshops on Deep Learning.
I've also tried to lead our own professional learning communities of teachers on our journey to embracing deep learning.
The big question I have for people in the "Deep Learning" movement is what have they personally learned about "deep learning" or 21st-century competencies through a deep-learning kind of way?
Sure, the deep learning task that most of us do first is try to figure out a way to teach deep learning and 21st-century skills to our students.
But, I think experiencing deep learning ourselves is important to help us come up with better deep learning experiences for our students…
Deep Learning about Deep Learning
Have you ever been to a professional development workshop about some sort of teaching philosophy and it was ironic because the way the PD session was delivered was the exact opposite of what you were supposed to do yourself?
It'd be like learning how to …
throw a football by just listening to the teacher explain with a slideshow.
play an instrument by only hearing the theory behind playing instruments.
teach collaborative learning for the first time… by sitting down independently and taking notes from a video.
Sometimes, we gain a deeper understanding of concepts by doing. And, great teachers already know this.
So, it makes sense that learning about deep learning should involve doing some deep learning yourself.
Pretend you are taking a course on how to teach 21st century competencies.
Oh, and for whatever reason, you need to get a B (or 75%) in this course:
Maybe you need this course to graduate and get a piece of paper saying that you completed this course.
Maybe this piece of paper helps you advance somehow at work.
Maybe you get a pay raise, or completing this course is a pre-requisite to getting that job that you really want.
You've read the course syllabus. You know that we'll be learning about social emotional learning through the six Cs of education: character, citizenship, communication, collaboration, creativity/innovation, and critical thinking skills.
What are the 6Cs and why are they so important?
How do these transferable skills help our students when they graduate?
How do we embed these 21st-century skills into our subject-based programs?
You are expecting a classic professional development course.
Get handouts and rubrics that help you evaluate how your students are doing in the 6 Cs
Listen to the instructor read through a PowerPoint that go through the big concepts and some statistics on why 21st century skills are so important. Hopefully, there are some pretty graphics.
Spend time in groups thinking of ways to embed these 21st-century competencies into your current programs. (If this was a one-day workshop, we're looking at breakout sessions after lunch!)
Half of us taking this course will think to themselves, I already do this or I already know this. (You think you do, but you probably don't – at least not in a paradigm shifting way.)
The other half will think why do I need to do this? I already have so much to do as a teacher. I don't have time for any add-ons and the next flavour of the week!
The third half will wonder if this is the best use of our time. I'd rather spend my time developing lesson plans or marking assignments or catching up on work or photocopying.
And another portion of the group will say, "We got this," and do the assignment: analyze the rubrics, form opinions about the big concepts and details in the PowerPoint, and start to wonder about how to use these key concepts (i.e. buzzwords) in our work.
(Yes, I know that doesn't add up to one. But, more importantly, which group are you part of?)
To your surprise, you enter this course on the first day and you're told that by the end of this course, you will have a better understanding of the 6 Cs of education, but more importantly, mastering these skills will help you in your own life, as well as make you a better teacher.
Oh, and there's only one assignment in this class and your entire grade is based on this one assignment.
You have to figure out how to make teachers pay teachers products and make money selling them.
(Sure, we can accomodate your passion. If you'd rather sell something on another teacher website, Etsy, eBay, Amazon dropshipping, Shopify, great. But for the sake of this thought exercise, let's look at selling home-made lesson plans on Teachers Pay Teachers.)
How to become a better teacher: Can you make money on Teachers Pay Teachers (and actually make money)
This is not a thought-experiment.
This is not a "real-world" learning task that we often do with our students that is hypothetical and doesn't actually get implemented. For example:
Create an ad for a product (real or made-up) and present it to the class…
Come up with a way to clean water in a developing country,
invent a time machine – what would you do with it…
Those are fun lessons, but what if we actually did stuff… for real.
You actually have to figure out how to make teachers pay teachers products and then make money by selling those lesson plans.
Oh, and your mark is based on the total revenue you make from Teachers Pay Teachers:
Level 1: you make one digit of Teachers pay Teachers revenue ($1-9)
Level 2: you make two digits of Teachers pay Teachers revenue ($10-99)
Level 3: you make three digits of Teachers pay Teachers revenue ($100-999)
Level 4: you make four digits of Teachers pay Teachers revenue ($1,000-9,999)
Level 5: you make five digits of Teachers pay Teachers revenue ($10,000-$99,999)
Level 6: you make six digits of Teachers pay Teachers revenue ($100,000-$999,999)
Level 7: you make seven digits of Teachers pay Teachers revenue ($1,000,000+
And, magically, you need a level 3 (B) to pass this course.
Let's look at this Ultimate Deep Learning Challenge for Teachers. How is it different from the kinds of projects we assign in our classrooms?
Ultimate Deep Learning Teaching Challenge Criteria
Here's a starting point for the criteria behind this deep learning project:
Of course, you can make accommodations to the project criteria to differentiate for different learners so that everyone has an equal opportunity to achieve success..
You must sell teaching resources. The revenue you make from the sale of teaching resources will count towards your grade. The money made only counts once it is transferred to your bank account.
You have to sell a product, not a service. (Teaching a class is a service, so, no, you can't count your teacher salary as revenue from the sale of teaching resources.)
There are many ways to complete this challenge, but whatever you do must be legal and respect all applicable laws, including copyright laws.
You do not have to sell on Teachers Pay Teachers, or even sell online. There may be other ways to sell your teaching resources aside from a TpT store.
There is no time limit. (Well, that's not exactly true. Hopefully, selling teaching resources lights a spark in you that continues for years beyond this course. Practically speaking, you need a mark at the end of the semester, so you only have a couple of months.)
Questions about the Ultimate Deep Learning Teaching Challenge
After you handout any project, there are always questions.
I imagine this would be a mix of excitement, incredulous disbelief, and anxiety. Just like how some of our students feel when we hand out an open-ended deep learning project. (Good to know how the other side feels… we call this empathy.)
QUESTION: Is this legit? Is our mark actually based on how much money we make from TpT?
Yes.
I wouldn't say anything more to the class at this point, but here's the thinking:
Either you figure out how to make teachers pay teachers products, try to sell these products on TpT and experience the challenges that 21st century competencies help us overcome…
Or, you try to go through the university channels to argue that this is an unfair assignment… and you experience the challenges that 21st century competencies help us overcome…
Either way, you're facing a real world dilemma. How you navigate your way through it is up to you (as it always is.)
QUESTION: Can't people just buy their own resources to get a good mark?
Yes.
You could figure out how to make teachers pay teachers products and then spend your own money to buy your own resources. TpT would take away their commission and then you would get back a good chunk of the money you used to buy your own resources. In this way, you'd get $100 revenue from TpT.
But, is that different from
Going online to find answers to your novel study?
Paying someone else to do the assignment?
Working in a group but not really contributing very much, even though the project still gets completed by the other students?
I suppose there's a game of cat-and-mouse here that we could play to try to prevent this cheating:
You can download a TpT sales report which shows who bought your resources, so it'd be "easy" to see that you bought your own resources.
So, then if you wanted to cheat on this assignment, you'd simply ask your friends to buy your resource and then pay them back – so it looks like local teachers love your products. At this point, you couldn't really prove that the people who bought your resources bought them because they're great resources… or because you asked them to.
Now we have a bigger conversation around what is learning … and through this discussion, you'll need to be assertive (communication) and justify your response using your criteria of what learning is (critical thinking)
QUESTION: How is this fair?
I would turn this around and ask, does a lesson have to be fair?
This leads us into a bigger conversation about equity of outcomes in schools
Some families have more money for tutoring.
Some students can afford to bring in their own device (hello school districts with BYOD policies) and have greater access to technology
My follow-up question would be, how do we make this deep learning lesson more fair?
I would say that the big idea in this ultimate deep learning challenge for teachers is for us to experience obstacles in this real life task and look at the 21st century competencies that we needed to use to overcome these obstacles and eventually find a way to succeed.
Consider the following rules that we could add to our criteria for this task – would any of these rules make this deep learning task more fair?
Option 1: You can't buy your own resources (what's to prevent you from asking a friend to buy $100 worth of resources?)
Option 2: you can't ask a friend to buy resources. (Is this fair? Often times when we're fundraising for a marathon or some charity, we go to friends and family and asked them to support us. Is this different?)
Option 3: raise the target revenue to something that you couldn't achieve by buying it yourself, or asking friends to buy. (You could say that you need to sell $1 million of resources, but has a task now become too daunting?)
How to become a seller on Teachers Pay Teachers
Click here to go to the Teachers Pay Teachers account sign up page
Click JOIN NOW and create a BASIC SELLER ACCOUNT. It's free.
With the basic seller account, you get everything in the TpT Membership account plus the ability to sell resources.
Just because you become a seller on TpT does not mean you will actually sell anything.
But, it's a start.
It's also a great opportunity to become a better teacher. Here's why…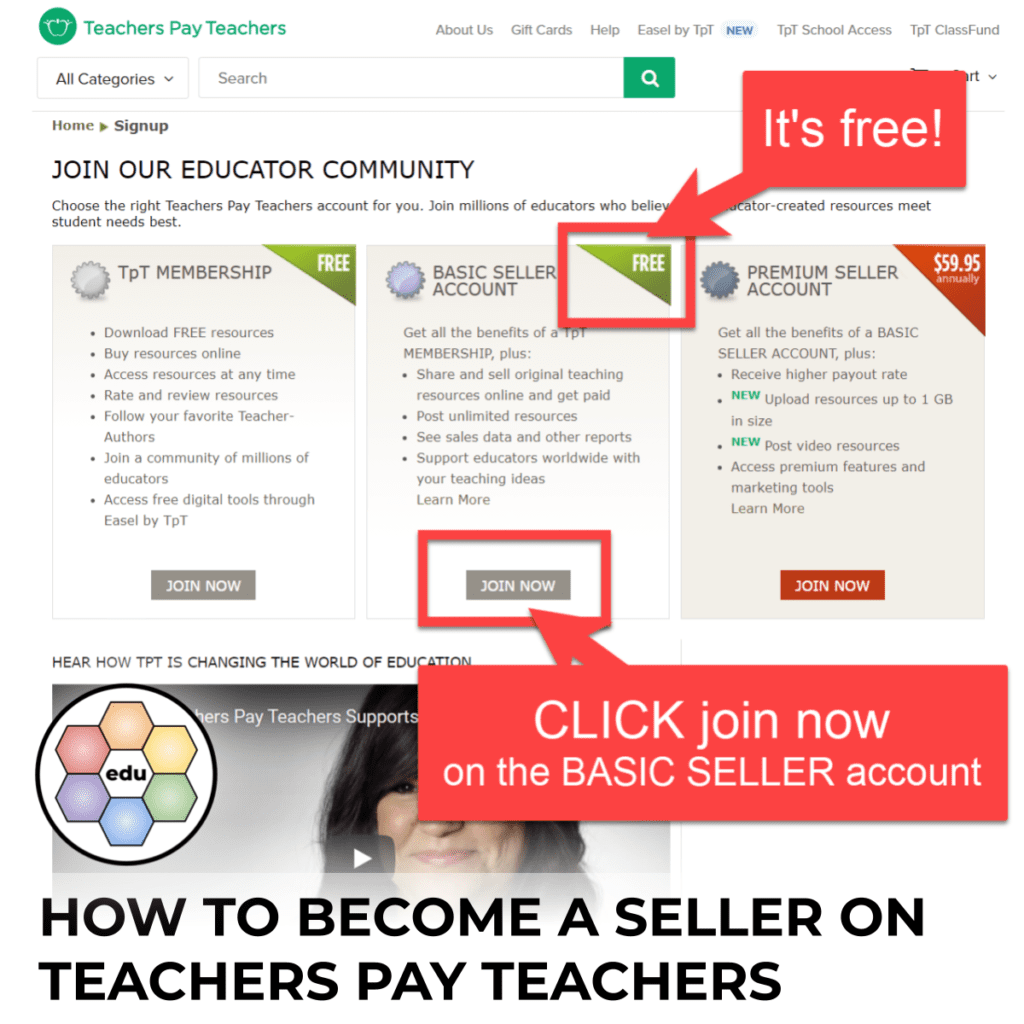 7 reasons why selling your lesson plans on teacherspayteachers can help make you a better teacher
This great adventure of figuring out how to make teachers pay teachers products and how to sell resources online is an opportunity for teachers to become learners again.
By becoming teacher entrepreneurs (or "teacherpreneurs"), we need to figure out / remember what it takes to survive and thrive in a competitive market
(By the way, these are the 21st-century competencies that we need to teach our students.)
Great teachers take what they learned and embed it into their own lesson plans. So the lessons we learn here can shape our teaching practice as we learn about how to prepare students for the 21st century.
Here are some of the lessons that are out there for teacher entrepreneurs.
1. Selling on Teachers Pay Teachers is a lesson in Character
Even though we hear examples about people making millions from the Internet, and yes, Deanna Jump made over a million dollars revenue from Teachers pay Teachers, the reality is that making money online is hard work.
Even after you figure out how to make teachers pay teachers products, that's just the beginning.
At some point during this challenge to make money from selling your lesson plans, things won't work out the way you thought they would.
People might not buy your lessons.
Sales might be slow.
No one leaves a comment.
Someone leaves a bad review.
You are going to want to give up. You might even give up.
But, if you can find a way to keep going until you're proud of your success, you'll learn a lot about Character.
"Have you ever had the odds stacked up so high, you need a strength most don't possess? Or has it ever come down to do or die, you've got to rise above the rest? No? Well I've never had to – knock on wood – but I know someone who has, which makes me wonder if I could…"

The Mighty Mighty Boss Tones, The Impression that I get
Character is about grit, tenacity, and perseverance. We talk to students all the time about developing character and how we should keep on trying to get through those tough times.
You're not happy with this mark? Don't give up! You'll get it!
Maybe your school is wearing T-shirts with motivational quotes: "Pain is inevitable. Suffering is optional."
Perhaps you share the story in class about how Michael Jordan missed more than 9000 shots in his career, lost almost 300 games, missed the game-winning shot 26 times, and failed over and over again in his life. But that's why he succeeds. He doesn't give up.
Do those things build character in your students? Maybe.
Did they help you to keep going with this challenge to sell your lesson plans online?
Did someone saying to you, "Don't give up! You'll get it!" help you to eventually get the sales?
Did looking at an inspirational quote help you find a way to keep going?
Did knowing that story about Michael Jordan give you the strength to keep on going?
If not, what did help you to keep going?
What works for one person won't necessarily work for everyone all the time. We know this. But actually making money from selling lesson plans can be tough work, and if you can figure out a way to keep on going until you're proud of the sales you're making, then high five you!
Guiding Questions:
What got you through those tough moments.
How does your personal experience about struggle help you relate to the students in your class who struggle with your course content?
How could you create opportunities in your class for your own students to learn about what works for them to get through tough times?
2. Selling resources online helps us learn about power and citizenship
Being a good citizen means contributing to the communities we belong to – whether that's our class community, our school community, our local community, our religious community, our country, or our global community.
Being a good citizen requires empathy and equity. There's a certain give-and-take that comes with being part of a community.
When we can empathize with the other person's point of view, it can help us to appreciate their perspective and give more weight (at least in our minds) to their opinions and struggles.
Thinking about power
As teachers, we're part of our class community, but there's no denying that we hold a lot of power. Sure, the curriculum decides what we teach, but we use our professional judgment to decide how to teach. (And that's a key aspect of this deep learning paradigm shift.)
We decide what resources to use, which stories to tell, and whose voices to include in our program
We choose how much time to allocate to a certain project as well as how we want to assess, as well as the marks we give our students
We control where students sit, when they can speak (i.e. raising hands), and if they can go to the bathroom.
As we get more experienced, it's easy to get set in our ways and get stuck in a fixed mindset thinking that our way is the best way (and the only way.) After all, we are the experienced teacher who has been teaching our course, this way for over a decade…
So, selling your lesson plans on Teachers pay Teachers puts us back into the shoes of a struggling learner – how do we succeed in this deep learning task to sell our own lesson plans?.
Think about copyright and trademarks.
When we become sellers of lesson plans, it helps give us new perspectives on copyright and trademarks.
First of all, we're not legal experts, so as we create resources, we have to go out and learn about what we can and cannot use. We're going to mistakes. Hopefully, they're not too costly in the long run.
But, after you spend a significant amount of time creating resources to sell, you might feel differently about your rights as the author and how people use your work.
How does this influence our classroom practice?
Well, how often do we give an assignment to students and then they go copy / paste or remix images from Google search without thinking about attribution, credit, or even if they're allowed to? What habits are we building?
Guiding Questions:
What got you through those tough moments.
How does your personal experience about struggle help you relate to the students in your class who struggle with your course content?
How could you create opportunities in your class for your own students to learn about what works for them to get through tough times?
3. You need to be aware of who your customers are.
As teachers, our customers are our students and their families. Your customers change over time. And, I'm not talking about how every year, you get a new batch of students.
I'm talking about how demographics change over time.
At the start of my teaching career, I did a media literacy lesson deconstructing the lyrics in Katy Perry's Firework. Powerful message. The song was released in 2010 and hit number one on the charts. When I first did that lesson, a lot of students were hooked because it was relevant.
Seven years later, it's still a good lesson… but not as relevant.
Yes, some lessons are timeless. But, as teachers, are we choosing content that is engaging for us… or for our students? Do we ever update our lesson plans and teaching choices?
When we sell a product, we need to figure out a way to make people want to give us their money.
Our perspective customers need to be thrilled to give us money in exchange for what we're offering…
Over time, some things might start to sell less than others. Why is that?
(Well, it could be seasonal. After all, not a lot of teachers are looking for resources during the summer, but in September, you might make more sales if you have a Back-to-School kind of product – like building classroom community through character and citizenship.)
As the years (decades) go by, sometimes, things need to be updated to keep up with the times. This includes your lesson plans, whether you're selling them on Teachers Pay Teachers or "selling" them to your students (i.e. teaching in the classroom.).
Check out the 2014 redesigned Judy Blume cover of the 80s classic, Are You There, God? It's Me, Margaret.
I've never seen an update to a book's cover executed so perfectly:https://t.co/WD7dtBELpF pic.twitter.com/hh3zAJnmfW

— Ryan North (@ryanqnorth) May 8, 2017
Here's the backstory about how that modern cover came to be:
We were thinking that this was the most iconic book for kids this age, so what is the most iconic thing we can think of? Texting emerged. It's funny, of course, because there are no cell phones in the book, but Judy has also said that if it was written today, Margaret would be a texter!

SOURCE: Vox, How the redesigned Judy Blume covers avoid nostalgia and embrace universal adolescent angst
Judy Blume's books about parental divorce, sex, bullying are still relevant today. The old covers from the 70s, 80s, and 90s are not.
The publisher redesigned the covers "taking them out of the pastel-hued photorealistic covers of the '70s, '80s, and '90s and into the color-saturated, boldly graphic world of today's teen trends."
Guiding Questions:
Your lesson plan content can still be relevant today, but how do you market it to:
Teachers who want to buy lessons
Your students who you want to teach your lesson plan content to?
4. Selling resources online is a lesson in communication
Who is your audience? And, how do you communicate in a way that they can receive your message?
The communication process has 4 parts:
A sender
A receiver
A message
Feedback
We often don't really think about the communication process because we just do it. But that doesn't mean our message is heard!
If you're selling lessons on TeachersPayTeachers.com,
you're the sender. (You have something you want people to know: buy my great product!)
the teacher who might buy your lesson is the receiver of your message
What is your message? Probably that you (the teacher browsing my product) should buy my lesson.
But, really, the message should be persuading the teacher that they want this lesson resource so much that they want to give you money for it. (This is awesome! Here, take my money!)
OK. How do you construct your message? Well, you probably should figure out who is the receiver (i.e. what teachers are you selling your product to?)
what are they looking for?
what do they want?
what format do you deliver that message in a way that captures their attention long enough for them to get the message?
Does this really make a difference? Absolutely!
what font would appeal to Kindergarten students (and hence, Kindergarten teachers who are looking for resources to use in their class?)
would that same font work for high school students? (Would high school teachers really want to buy a product with that jumbo font and cutsie clip art?)
How do you know if your message was received the way you intended? What feedback can you look for?
Well, if you're selling lessons on Teachers Pay Teachers, you might look at the number of sales, your conversion rate or comments.
If you're teaching your class, you might look at the number of engaged students (or bored faces), how well they understand the material through formative assessments…
Of course, communication is more than just the communication process, but that's a good place to start – especially if you want to show your students strategies to be assertive, instead of aggressive, passive-aggressive, or passive. We delve deeper into communication for students here.
5. Things won't work. You'll need to try new things. (Be Creative. Innovate!)
It's easy to get frustrated when things don't go as expected. Some of our students will try one thing, and when it doesn't work, they give up or lose interest.
(Actually, if we're being honest, I can be like that sometimes, and I bet you are, too.)
The problem is often times, when we teach our subject matter, we already know the answers to the questions we ask our students. Or we know the subject matter quite well (because we were fortunate enough to teach the same content for several years and just had more time to play with the subject).
Sometimes, when you become an expert in a subject, we have so much prior knowledge, it's easier to find solutions… (and easy to get stuck in the same way of thinking.)
We need to learn HOW to be MORE creative, so that we can help our students to be MORE creative when they're solving academic problems, or life challenges.
When we try to sell our lesson plans online, this will be a new experience for most of us. Chances are, some (or most) of the things we try won't work.
Now is the time to re-discover how to be creative.
If you don't care much for creativity, call it INNOVATION or PROBLEM SOLVING instead
Of all the 6 Cs of Education, I found creativity/innovation the hardest to get comfortable with. Making a lesson plan for students about creativity helped me figure out how to explain:
Why we need to be more creative (to solve problems academically, professionally, personally… )
That creativity is a skill we can develop. (Hello, growth mindset!)
That creativity is something that we judge / assess / evaluate. (Actually, I posted this as a free lesson here. Play the game, twelve, and you'll see how we judge creativity all the time.)
How we can become more creativity (by breaking patterns/habits, exploring new things and observing what happens.)
So, now, I intentionally choose things that I don't normally do and try to observe and wonder. I'm just building up a bunch of ideas and memories for my brain to connect in new ways later on.
Sometimes, we need to tinker and try to find new ways to sell our lesson plans, or to branch out into new lessons or areas. It probably won't work, but maybe we'll learn something.
And, that's a good skill (and attitude) to transfer into our own lesson plans for our students.
6. You're going to have to make some choices. This requires critical thinking.
You're going to have options as a Teacher-Seller on TpT and you'll have to make some decisions.
Critical thinking is just a process to make decisions based on high-quality information and to seek out opposing points of view to make an informed decision.
One way to teach critical thinking to students is to break it down into strategies:
Use criteria – you might have a bunch of factors to consider – which ones are the most important to you based on your end goal?
Be Full minded. – it's easy to find information that backs your current thinking. Try to figure out what other perspectives there are and then search out information that you're missing
Be Open minded – recognize that your first gut emotional reaction may not be the best option. You have to consider the other side of the story and be willing to accept it might be better.
As a teacher-seller, what's your end goal? Here are some possibilities. From the list below, which one is most important to you?
Make money – Well, I imagine if you're doing the Deep Learning Challenge for Teachers, it would a side hustle be to make money by selling your lesson plans.
Reach – Get your lessons to as many people as possible
Teach students – Teach a skill or concept to students indirectly through other teachers.
Volume – Get as many lessons as possible published on your TpT store
Do you have any deal breakers? As in, things that are super important to you and if it doesn't have this, you won't do it? For example
Only publish content that you own (i.e. images – lesson plans)?
Only publish no-prep resources that you can print right away?
Here are 2 decisions that you'll have to make as a teacher-seller on TpT:
Should I get a BASIC SELLER ACCOUNT or a PREMIUM SELLER ACCOUNT?
TeachersPayTeachers.com offers 3 types of accounts:
You can get a FREE Teachers Pay Teachers membership to download free resources or to buy resources on the site.
You can get a FREE BASIC SELLER ACCOUNT which has everything in the regular teacher membership, and also lets you sell resources onilne.
Or, you can pay $59.95 (USD) annually to upgrade to a PREMIUM SELLER ACCOUNT.
So, what's the difference between the BASIC seller account and the PREMIUM seller account?
The Basic seller account is free, but Teachers Pay Teachers takes a larger transaction fee commission (45%) from each of your sales.
On, the other hand, the PREMIUM seller account costs some money up front ($59.95), but Teachers Pay Teachers takes a smaller transaction fee cut (20%) of your sales.
So, start with the BASIC seller account because it's free, and then once you start making some sales, you get to decide when it's worth upgrading to the PREMIUM seller account to offset the transaction fees.
The magic number is $240.
If you can sell more than $240 worth of lesson plans in a year, it's better to have the PREMIUM SELLER account.
(Psst… things change so you'll have to think critically and figure out if the transaction fees break-even point changes when you start your tpt store.)
If you have a BASIC seller account…
if you sell $240 of resources, you'll pay $108 in transaction fees to TpT
$0 for the BASIC account, and
$108 in commission fees (45% of $240)
If you have a PREMIUM seller account,
if you sell $240 of resources, you'll pay $108 in transaction fees to TpT
$60 up front for the PREMIUM account, and
$48 in commission fees (20% of $240)
$240 of resources annually works out to be $20 of sales per month. So, once people start buying your resources on your TpT store, if it looks like you can make $20 of revenue per month, it's time to buy that Premium seller account plan for your side hustle.
PRO TIPS:
The PREMIUM seller account membership is an annual fee. You only get the lower 20% TpT transaction fees rate once you buy the PREMIUM membership, so any sales you made before that time won't get the better commission rate. (Source: TpT Help Page: What types of Accounts are offered on TpT)
Teachers Pay Teachers is definitely a seasonal kind of thing. So, if you only sell Back-To-School resources, you may not make any sales in June.
Even though this is a global economy and anyone can purchase resources from your Teachers Pay Teachers store, in my experience, the bulk of the teachers purchasing resources have been in the US. So, although Australia is in a different hemisphere and in theory would be buying Back-to-School resources as US schools are shutting down, in practice, you may not make the same amount of sales.
About the Teachers pay Teacher School Access program
Teachers pay Teachers School Access is an annual membership plan that schools buy so that teachers at the participating school can get easier access to TpT resources.
A few quick things to know:
It provides quicker access for teachers at a participating school to download lesson plans and other products because the school has a pool of credits to buy resources.
Individual teachers don't have to pay from their own pocket to get resources because the school pays for the annual subscription.
Teachers Pay Teacher School Access is a subscription model, so at the end of the year, your access to that resource expires. If you want to use that unit or lesson plan again next year, you'll have to "buy it again" through the School Access program.
Teacher products can be listed on both the regular TpT marketplace and the TpT School Access catalogue. The resources are listed at the same price, however if you buy a product from the regular TpT marketplace, you pay once and get life-time access to that product. With the TpT School Access subscription model, schools will have to pay annually to get access to that product.
Teacherpreneurs like myself currently are not forced into participating in the School Access program. This means that not everything you see on the Teachers Pay Teachers site will be available if you have the school access program. So, if you want a specific unit not available in school access, the only way to get it would be to buy it separately from the regular TpT marketplace. (But then, at least you'd get it forever and not have to pay annually for access to the resource.)
Should you sign up for the Teachers Pay Teachers School Access beta program?
Teachers Pay Teachers is trying something new.
It's awesome and exciting. It's called School Access and essentially it's a way to get teachers more access to TpT lessons by getting schools to pay for the lessons (instead of individual teachers buying the lessons.)
From what I understand, essentially schools pay a fee to get access to a catalog of TpT resources for one year.
"Schools that sign up for TpT School Access will pay for all of their teachers to have the ability to access a capped number of resources during that year."

Teachers Pay Teachers School Access FAQ
This is great stuff.
But, count me out. As someone who sells lessons on TpT, I'm not going to participate.
I tried to think critically by getting informed about the issue, staying open minded and considering both sides by intentionally seeking out an opposing point of view.
Based on what I understand about School Access, here's why I'm going to opt-out.
As a seller, there are lots of benefits:
It's a way to make more sales because instead of teachers paying for lessons out of pocket, or trying to crowd-source to pay for lessons by asking parents to contribute, TpT is going directly to schools administrators and providing a way for the school to purchase TpT lessons for their teachers.
Schools who buy TpT lessons through School Access can only access your resources for one year at a time. With each subsequent year, if they choose to access your resource again, the teacher-seller would be paid again.
Resources will have "enhanced protection" from getting shared with other teachers (who don't pay for your resource.) Right now, that means they're locking down PDFs.
Pros of joining the School Access Beta:
1. Getting my products in front of teachers who can afford it
By participating in this beta, I get the chance to be in this TpT School Access catalogue for schools who have already bought into the idea (and budget). So there's a greater chance of me making a sale because the obstacle of "I can't afford this lesson" has been taken away (Schools have a bigger budget than individual teachers.) Teachers at schools who are part of the School Access program just have to choose which TpT resource they want!
2. Probably less competition from other TpT Sellers
Not all teacher-sellers on TpT are going to participate in TpT School Access which means I might have less competition from other sellers and so I might make a lot more sales than just on the ordinary TpT marketplace where I have my Educircles store.
3. TpT is taking steps to listen to concerns from their teacher-sellers.
"With the introduction of the upcoming TpT School Access beta, we've been listening and talking with hundreds of Teacher-Authors at Meet-Ups in four cities (two more coming up!), on the Forum, through email, and on calls. We truly appreciate the honesty and candor we've heard from so many of you in these past couple of weeks. We've been listening and considering all of your feedback about TpT School Access."

Teachers Pay Teachers School Access:
Love it. Love being listened to, and love the opportunity to watch a company listen to it's inidependent contractors. With the number of meet-ups and feedback that they're collecting, I feel confident that TpT is making attempts to listen and come up with a compromise that everyone wins.
I feel like this is great communication: they're being assertive and trying to see how they can meet the needs of the teacher-sellers they're communicating with, without losing their boundaries. Love it.
And, this is communication during tough conversations where you want something and the other person (in this case the teacher-sellers) want something else. So, it's not easy, and love how team TpT is handling it.
It makes me feel like TpT has the ability as an organization to adapt and overcome obstacles, or at least communicate that way.
SIDE NOTE: TpT has done several webinars to address questions and concerns with teacher-sellers. I was signed up for the webinar tonight (Mon, Nov 25 at 7:30pm), but the moment they said their ground rules included being confidential and keeping the information within the TpT community, I left the webinar. I've already written and published this post and didn't want TpT to feel that I breached their confidentiality.
Cons of joining the School Access Beta:

1. TeachersPayTeachers.com is taking an additional percentage commission from teacher-seller product sales on the School Access catalogue.
Believe it or not, I don't mind that TpT takes a commission from every sale I make from my Educircles store on the regular TpT marketplace.
When you sell on TpT, you either make 55% of every product you sell, or you make 80% (if you pay the $59.95 annual fee.) TpT has information about their account types here.
I pay the $59.95 annual fee, so TpT only takes a 20% commission from my sales which I'm happy to give them. Why?
I don't have to worry about setting up and maintaining an e-commerce site, collecting credit card payments, worrying about security, or collecting state sales tax where needed.
I have access to a large community of teachers who use the TpT search bar to find free and paid resources.
Yes, I know how to set up my own ecommerce site and sell my own products online. I've started to do that here https://seot.ca/shop/.
But getting teachers to find your products online is tough. Marketing is a good skill to learn.
Over time, I think I can start to rank on Google for a bigger slice of the organic search pie on words like Growth Mindset posters… But, it takes time.
So, I love selling on an established marketplace like TpT. And, to be fair, they love their teacher-sellers.
When we make money selling lesson plans on their marketplace, the TpT company makes money. It's actually win-win-win.
I make money selling my teaching resource.
TpT makes a commission for their efforts in building the TpT marketplace.
Teachers buying the lesson plans win because they save time (in exchange for money i.e. they have to buy the product, but they don't have to create the resource )
Selling to schools is a fantastic idea. Love it. More sales? Love it.
But, I don't understand why TpT needs to take an additional percentage commission from our product sales that are purchased through the School Access membership model.
Teachers will be able to sell more resources, and in turn, TpT will make more money from the increased sales volume. Why do they need to increase their commission rate for this service?
Here's a screenshot taken on Nov 7, 2019 looking at some numbers:
If I sell a $10 product on my TpT marketplace through my regular Educircles store…
I make $8 the first year and $0 the second year. So, $8 total after two years.
TpT makes $2 the first year and $0 the second year. So, TpT made $2 total after two years.
If I sell a $10 product on their TpT School Access catalog …
I make $6.40 the first year and $4.80 the second year. So, $11.20 total after two years.
TpT makes $3.60 the first year and $5.20 the second year. And, TpT makes $8.80 after two years.
The TpT argument for me to join the School Access beta is that I can make more money as a teacher-seller because the teacher buying the product has to pay every year for access to my product.
Instead of making $8 after two years, I'll be able to make $11.20 after two years through School Access! Woo hoo!
This is $3.20 more, or a 40% increase!
Looking at the numbers, I get why TpT wants to charge this additional commission on resources listed in the School Access.
Instead of getting a $2 commission after two years, they'll be able to get an $8.80 commission after two years through School Access (off of a $10 product.) Nice!
This is $6.80 more, or a 340% increase!!
So, who loses? The teacher buying the resource.
If I sell a $10 product on my TpT marketplace through my regular Educircles store…
The teacher buying my resource pays $10 the first year and $0 the second year. So, $10 total after two years.
If I sell the exact same $10 product on their TpT School Access catalog …
The teacher buying my resource pays $10 the first year and $10 the second year. So, $20 total after two years.
This is $10 more or a 100% increase in cost for the teacher.
I know, I know. Schools are paying for this, so individual teachers aren't losing out. But, with all due respect, schools have limited budgets and there are lots of things they have to purchase.
Are you saying that we're asking for schools to do with less so that I can make 40% more money and TpT can make 340% more money?
I don't think that's cool.
(Psst, that math is for the first two years. In the third year of charging an annual fee to the purchasing school, I make a 100% increase over my income if I sold it in the regular TpT marketplace. TpT makes a 740% increase in their commission, and the school buying the resource? They've paid 200% more than if they just bought the exact same resource from the TpT marketplace.)
Let's say I sell my Character Resource for $10 on my Educircles store on the TpT Marketplace:
I make $8 the first year, $0 the second year, $0 the third year. ($8 total)
TpT makes $2 the first year, $0 the second year, $0 the third year. ($2 total)
The teacher buying my teaching resource pays $10 the first year, $0 the second year, and $0 the third year. ($10 total)
If I sell the exact same product for $10 on the TpT School Access catalogue and a teacher buys this resource for three years…
I make $6.40 the first year, $4.80 the second year, $4.80 the third year ($16 total) – this is $8 more than selling on the TpT marketplace which is a 100% increase for me!
TpT makes $3.60 the first year, $5.20 the second year, $5.20 the third year ($14 total) – this is a 740% increase for TpT!
The school buying the teaching resource pays $10 the first year, $10 the second year and $10 the third year ($30 total) – this is a 200% increase in cost for the school!
2. I don't want to sell my products on a membership model.
I'm not a fan of the membership model. As a consumer, chances are you don't like it either.
I'd rather pay for an app straight-out than get hit with a recurring annual fee. But, I don't mind paying a recurring monthly fee for Netflix. What's the difference?
With an app, I'm getting a digital product.
With Netflix, I'm getting a service. It's kind of like paying for internet access. If you stop paying, you stop getting internet access. Makes sense.
I know what you're thinking. Apps constantly need to be updated as the times change.
Microsoft Office and Adobe products used to be sold as a product. For a one time fee, you got that version of their software.
Now, Powerpoint and Photoshop are sold as services which require a recurring fee. But, in exchange, you always have the latest version of Powerpoint and Photoshop with all of their new features that they roll out. Not a fan of the recurring fee, but I get it.
In all fairness, how often do the digital lesson plans on TpT actually change from year-to-year?
Yes, I'm sure there are teachers-sellers who update their products here and there. In fact, I hope to be one of them. As I update my products, I include a change log so teachers can see what has changed.
For example, in version 2 of my 6 Cs lesson plans, I'm hoping to connect everything to the English Language Arts curriculum. (And no, I don't expect teachers who bought my first version to have to pay again to get the new version.)
But I can't see myself updating my products in significant ways every year to justify an annual recurring cost for the teacher or school that bought my product.
I'm guessing for the majority of us teacher-sellers, once we put our product up for sale on TpT, it's set-and-forget.
Does that kindergarten unit about fall really change from year to year?
Do the answers to that novel study really change enough to warrant a membership fee?
(Critical thinking moment: What lesson plan on TpT actually would need to change from year to year?)
So, my belief is that most of the lesson plans on TpT are digital products, not services. As a consumer, I just want to buy the product straight out.
—- I think a membership model for lesson plan licensing is detrimental to my lesson plans
My goal is to be part of the movement preparing students for the 21st century while making a living creating digital products that make the world a better place.
21st century competencies and skills are a paradigm shift from the way teachers taught with static lesson plans from the start of their career.
If a teacher purchases a resource for me, I'm hoping to help them see the value of teaching a growth mindset and learning more about mindsets and 21st century skills.
Some teachers and schools are already believers in embedding 21st century skills into their classroom programs. (Or, they're at a school that is embracing or told to embrace 21st century skills.)
How do I know this? Because they're the ones who buy my bundle set straight out without buying another product first and then upgrading to the bundle.
One time, I had someone buy 4 licenses of my bundle. No teacher would buy 4 copies of the bundle, so I appreciate the administrator who did this for their teachers.
I don't want to penalize those teachers and school administrators from buying my products by hitting them up for an annual membership fee.
3. I'm not convinced School Access beta catalogue in its current form will be a good deal for schools
DISCLOSURE: At this point, I don't know how much it costs for schools to buy credits to access resources for the School Access catalogue. Principals need to submit a form before TpT will give them a quote. If it's dollar for dollar, then schools lose out in the membership model as School Access requires you to pay every year to access a resource, where as if you buy it straight out from the teacher-seller on the TpT Marketplace, once you've bought it, you have it forever.
Also, I'm not entirely sure you'll get critical mass of quality teacher resources in your product line up. So a teacher might be part of a school that's paid for the School Access program… and then discover the TpT resource they wanted isn't available because it's not in the catalogue.
For example, our Educircle 21st century learning products are not in the School Access catalogue. So, a teacher who thought they would be able to access it because they saw it on TpT would be disappointed to find out that their School Access credits won't work.
When teachers ask me why I chose not to list in the school access beta, I'll direct them to this blog post detailing my philosophy:
I think once a teacher has paid for one of my resources, they should be entitled to that resource and all of their updates for life.
I want to build a relationship with teachers who buy my products. Let's be part of a movement that modernizes teaching practice.
What would need to happen in order for me to participate in the TpT School Access beta?
My personal boundaries with the offer to participate in the TpT School Access program are this:
I think TpT should not increase their commission rate for products sold on their School Access catalogue. This seems like a money-grab for the company.
I think individual teachers should be allowed to

choose which products are sold in the school catalogue, and
decide whether or not a recurring membership fee is charged to the school buying access to the teaching resource.
Unfortunately, I imagine these are deal-breakers for TpT and while they may be able to compromise in other areas (i.e. including TpT products for $15 or under, instead of $20 and under.,)
I don't think Teachers Pay Teachers will change their commission rate or annual recurring fee model on the School Access catalogue.
Why?
Teachers Pay Teachers is a private, for profit company funded by private equity.
Investors like Tiger Global Management are in it to make money for their investors:
"Tiger Global seeks to earn superior risk-adjusted returns for its investors over the long term. The firm's fundamentally oriented investments focus primarily on the global Internet, technology, telecom, media consumer and industrial sectors. The private equity…"

Source https://www.crunchbase.com/organization/tiger-global#section-overview
Although Teachers Pay Teachers has its roots with a New York City teacher creating the marketplace, in 2013, Paul Edelman turned over the reins to "experienced hands"
Bottom Line:
We can love Teachers Pay Teachers for creating a place where teachers can buy and sell resources from each other. But, emotions aside, critical thinking requires us to use criteria, and become full minded and open minded about the issue.
The reality is that TpT needs to make money for its investors.
I'm more than happy for them to take 20% commission from my sales. I'm not okay with them charging a higher commission for School Access, or charging schools an annual membership fee to access my resources. That's literally taking money from schools participating in School Access that could be spent elsewhere.
I love Teachers Pay Teachers.
I think selling on their marketplace will make teachers better teachers because it's an authentic real world task for us to hone our own 21st century skills.
I don't think the School Access program is right for me, or right for schools.
Things I'm trying to make money on TpT
Things I'm trying to sell resources on TpT
Experiment #1: Just Start
Today is March 10, 2021 and I'm going to try something new.
I think I'm going to spend a few moments every now and then just documenting some of the things I'm trying on Teachers Pay Teachers to sell resources.
Let's be honest. It's not easy selling anything online.
It takes hard work and often times hard work is not enough.
It can get really discouraging when all you've made is $0.52. (Check out Laura's comment below.)
But, this is really all about goal setting .
It's an opportunity for us teachers to become students again and struggle and try to figure out how to make money from selling resources.
Here are 20 goal setting videos that I published on YouTube.
(You can also find these them on the SEOT Steps to Success website if you want to show the goal setting powerpoint to your students.)
They're common sense strategies that we already know but maybe need a little push in the right direction to use every now and then.
I think what I'm going to try to do on this page is to write specific things that I'm trying on TpT.
Almost like a how-to guide for other teachers on the Internet.
I thought it would be cool if I numbered each thing I tried as a different experiment but then I got stuck thinking that I tried a lot of things over the past 3 years to lead to $20,000 in sales.
Where do I begin?
And then, I figured I would just start fresh because sometimes the best way to reach your goal is to just start.
Teachers, if you have any questions, feel free to ask below in the comments.
I'm pretty excited because this week I had the opportunity to connect with one of the teachers who follows my store.
I gave her a suggestion for something to try on her store (think like a customer) and then stumbled upon this feature that I wasn't taking advantage of…
TpT Experiment #2: Use the TPT search tool to come up with the key phrases that teachers are looking up.
TpT has a search bar to help you look up resources.
And, just like Google, it suggests phrases to help you auto-complete your search.
This is a gold mine.
I have a 6Cs Effective Communication lesson about how to communicate more clearly and assertively.
I thought Effective Communication Lesson is what teachers would search up on TpT, but that's not the case.
The phrase I really should be using is Communication Skills (and not Communication Lesson)
So now that I know "Communication Skills" is searched up more often than "Communication Lesson", I'm going to see if focusing on that term helps lead to more sales.
Why do words matter?
Because you can have the best lesson in the world, if people don't know about it, no one will buy it.
So, showing up in TpT search is key.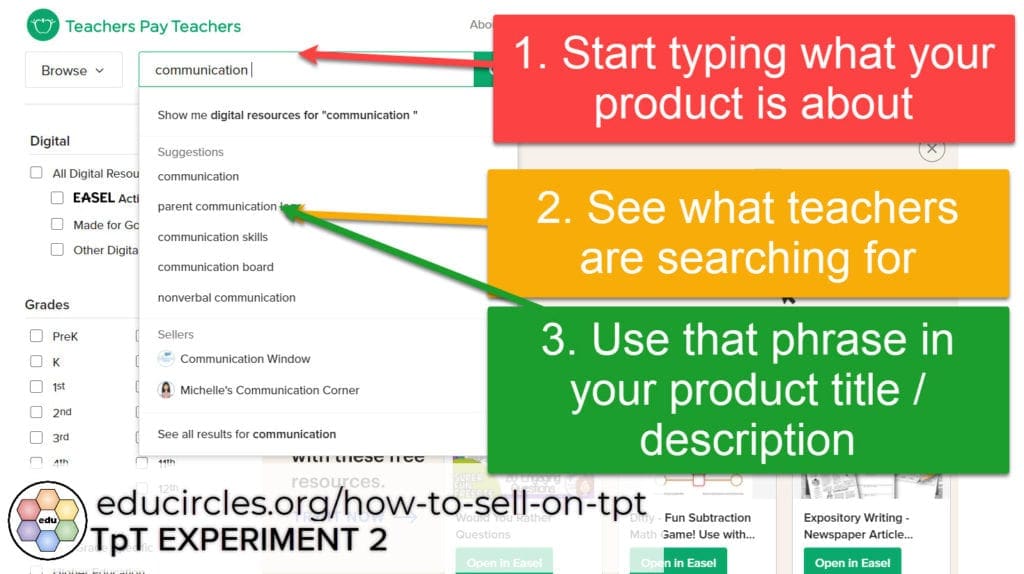 I'm trying an animated gif here below. (I might make them a thing, or I might get rid of them if they slow down this web page too much.)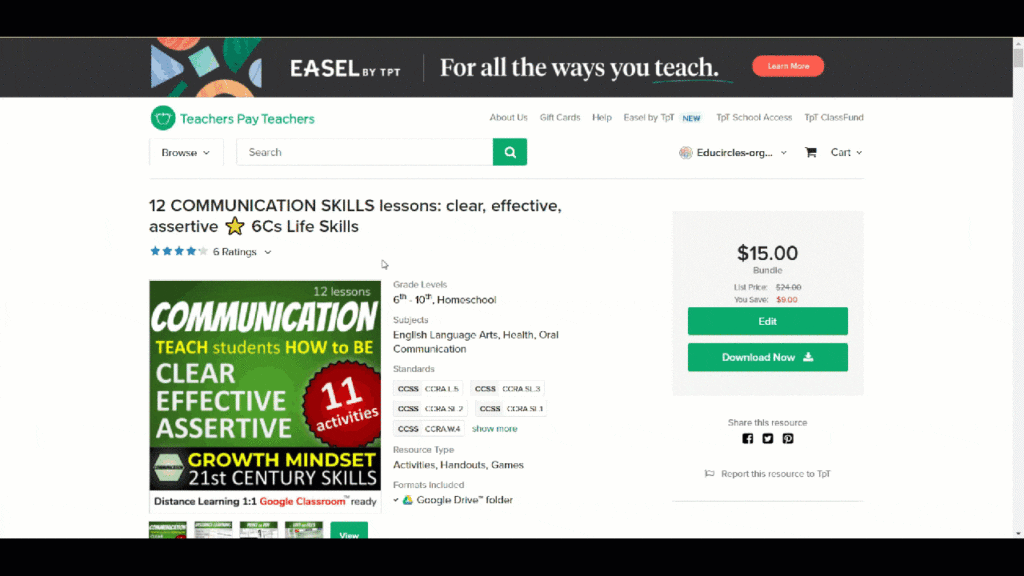 Whoa. You made it to the end!
If you liked this article and want more email goodness to stay in the loop. Click Here
Article first published Nov 16, 2019
Agree? Disagree? Do you sell on TeachersPayTeachers? What did I miss?