How to fix messed up formatting in an Educircles Resource (Missing Font)
If you open up one of my Educircles Resources and the formatting looks messed up, it's probably because your computer is missing one of the fonts I used. (Sorry!)
This problem only applies to Microsoft Word and Microsoft Powerpoint files. (Google Docs and Google Slides files get their fonts online from the cloud.)
The solution is easy!
And, once you install the font, this won't be an issue again.
If you need help or if this doesn't work, please email me at [email protected]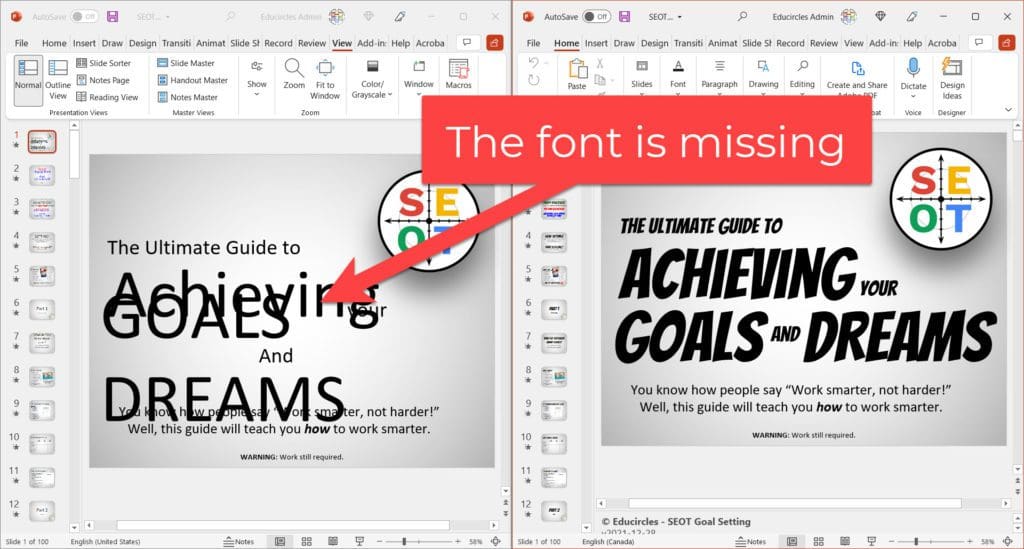 STEP 1: Download the FREE font from Google Fonts
I use Bangers for most Educircles products: Bangers – Google Fonts
Sometimes, I use Luckiest Guy for SEOT products: Luckiest Guy – Google Fonts
In the top right corner of the page, there is a button that says "download family." Click that to download the font.
STEP 2: Install the font
The font you download will be in a zipped file. Double-click the zipped file to open it.
There will be two files in there.
One of the files is a text file. (This is the license that comes with the font.)
The other file will be a font file.
Double-click the font file to open up the font.
There will be a button that says "install." Click that to install the font.
STEP 3: Close Microsoft Word (or Powerpoint)
Make sure to close Microsoft Word or Powerpoint. Otherwise, the new font won't load.
If you have multiple Word or Powerpoint files open, you have to close them all.
STEP 4: Open up the Educircles file again
This time, when you open up the Educircles Word or Powerpoint file again, everything should look great.
(You might want to go back to Step 1 and install the other font.)
Done!
You only have to install the fonts once.
Other Stuff
I would love to find out which product you had this problem with.
Please email me at [email protected] to let me know which file and resource you had a problem with.