Explore the 6Cs
and 21st Century Learning
Lesson Plans for a changing world
I want to help my students survive and thrive
Prepare your students for the unknown by encouraging a growth mindset.
Sign up today for free and be the first to get notified on new updates.
Let's be honest.
School can be tough.
Not everyone gets everything,
all of the time.
And, that's okay.
In fact, that's great!
START HERE:
90 lessons to help you empower a growth mindset in your students.
Here's a way to explore the 6 Cs of Education with your students.
The best part is you can customize these lessons to fit your classroom needs and teaching style.
Watch the video:
….. Wed July 28, 2021 update:
Want to see something cool?
This interactive map shows you the cities
where teachers are buying our resources!
Here's a FREE 10 page independent worksheet package to help students think critically.
Watch ▶️ this video to SEE HOW EASY it is to get my Educircles Google Drive products:
I'VE GIVEN AWAY $750 TO TEACHERS!!!
(as of July 2, 2021)
Earlier this month, I gave away $150 in my first Educircles Did I Cheat contest! (▶️ video)
Ezgi won a $25 TpT gift card in my Educircles Welcome to the Family giveaway. (▶️ video)
OH NO! You missed out on a $10 TpT gift card by answering 3 EASY questions!
Question #1 – Where do you teach?
Question #2 – What do you teach?
Question #3 – is sent to your TpT inbox.
Congratulations to the following teachers who answered the questions in time and won a $10 TpT gift card:
Angela (Sacramento, USA)
Michelle (Toronto, Canada)
Diane (Horseheads, NY, USA)
Jessica (Alexandria, PA, USA)
Dianne (Kyalami, South Africa)
Marisa (McHenry, IL, USA)
Marc (Middlesex, USA)
Emily (Ceredigion, Wales)
Tess (the Netherlands)
Laine (Boston, USA)
Teachers around the world have

DOWNLOADED over 30,293 Educircles resources!
✅ FREE BACK to SCHOOL activities: EASY. NO PREP.
✅ BACK to SCHOOL LEARNING SKILLS to kick off a GROWTH MINDSET!
✅ Save hours of prep (and MONEY) with the bundle!
Why am I so passionate about 21st Century Learning? Because it helped save my life. (▶️ video)
Proud to support teachers around the world!
across
in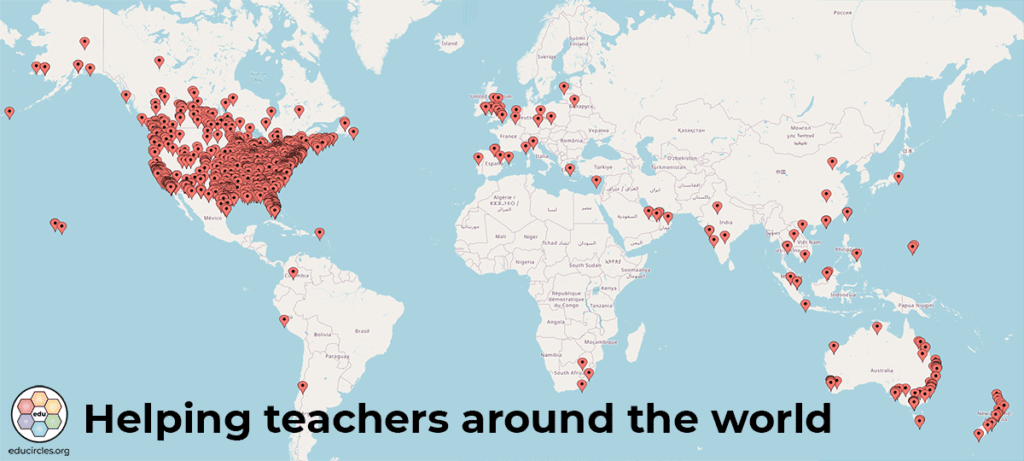 Here's where teachers are buying Educircles Resources:
United Kingdom
India
Singapore
China
Hong Kong
United Arab Emirates
Italy
Japan
Spain
Brunei Darussalam
Qatar
South Africa
Portugal
Viet Nam
Ireland
Thailand
Brazil
Korea, Republic of
Greece
Israel
Chile
Colombia
Philippines
Peru
Oman
Belgium
Switzerland
Cyprus
Poland
Latvia
Indonesia
Here's what teachers are saying
Educircles Review
I just finished this unit in my study skills class with my special education class and everyone loved it. Super fun and interesting activities, the videos were engaging and relevant and it covers each topic so well. I really like the structure of the units because they were all set up the same and I feel like my students thrive on that kind of structure: activities, videos, vocab, repeat. Great curriculum, would highly recommend 🙂

Savanna M.
June 2, 2021
GROWTH MINDSET BUNDLE
Absolutely AMAZING!! Wow! This bundle is one of the BEST purchases I've ever made. The organization is outstanding, the lessons are easy to implement, the quality is top-notch, and everything is teacher and student-friendly. While some may want to use these lessons to supplement their curriculum, I'm thinking how I can use my curriculum to supplement these lessons!! This is just awesome. I cannot thank you enough for all your hard work and support. You are appreciated!! 🙂

P.S. I had a few questions about this bundle….the quick and thorough response I received from this seller was so helpful. I highly recommend!! 🙂 Thanks again!

Tara Brown
December 1, 2020
GROWTH MINDSET BUNDLE
I love these presentations and the activities to keep students engaged. I'm using this with both in-person and online students. Super easy to assign work online due to the way the resources are organized. The class I am using this with is a "current events" class but I wanted to first focus on how to think critically before jumping into actual events happening in the world. This is a fantastic way to get them thinking before learning all about our media and how to analyze the content they read.

Britni D.
January 20, 2021
CRITICAL THINKING
This is an exceptional high quality resource that is worth more than it is, once I opened this product I was so impressed with the professionalism and dedication that was put into creating a high quality informational unit that is based on reliable sources throughout the entire package! I am very pleased with this purchase as my scholars are too, for they are the ones that receive this credible, reliable, and highly beneficial learning information that gracefully supports students through the learning process with rigorous content, that allows deeper learning opportunities for those that need that deeper level concepts for true engagement into their learning experiences! Highly recommend this phenomenal resource.

Deanna S.
October 1, 2020
Classroom Citizenship Debates
This was a wonderful supplemental resource to teach the Deep Learning Competencies. It was a great visual for students and helped me narrow our lesson's focus.

Nicole S.
August 7, 2019
Classroom Citizenship Debates
Here's what teachers are using:
Educircles Resources
Reading Comprehension Articles
(differentiated learning – each written at 3 different grade levels)
Here's the game plan at Educircles:
Create EPIC RESOURCES
that empower students with a growth mindset
that SAVE TEACHERS TIME
so you can focus on everything else
and help make a BETTER WORLD
where we stand up for ourselves and each other.