Explore the 6Cs of Education
and 21st Century Learning
Lesson Plans for a changing world
I want to help my students survive and thrive
Let's prepare our students for the unknown!
Let's empower a growth mindset.
Let's be honest.
School can be tough.
Not everyone gets everything,
all of the time.
And, that's okay.
In fact, that's great!
START HERE
90 lessons to help you empower a growth mindset in your students.
Here's a way to explore the 6 Cs of Education with your students.
The best part is you can customize these lessons to fit your classroom needs and teaching style.
Watch the video:
My goal is to save you hours of prep
so you can empower your students to make the world a better place.
…..
November is National American Indian Heritage Month

Need some resources to help amplify the "significant contributions the first Americans made to the establish and growth of the U.S."? Check out this website hosted by The Library of Congress.

Need help explaining to your students why we need to amplify the voices of Aboriginal, Indigenous, and First Peoples? Use this free Who is Invisible critical thinking lesson.

---
Teachers around the world have DOWNLOADED over 73,345 Educircles resources!
(Check out the interactive map – it shows you the cities where teachers have purchased an Educircles resource!)
✅ Save hours of prep (and MONEY) with the bundle!
Why am I so passionate about 21st Century Learning? Because it helped save my life. (▶️ video)
Proud to support teachers around the world!
across
in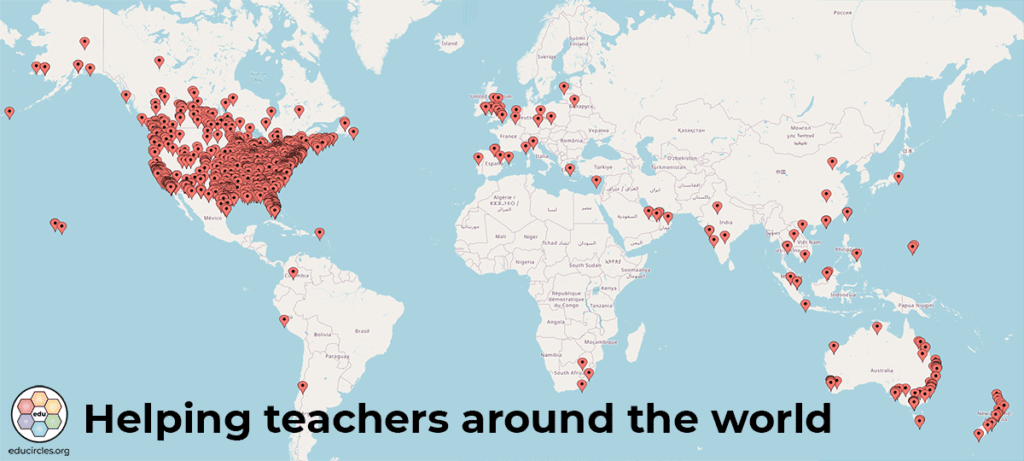 Here's where teachers are buying Educircles Resources:
United Kingdom
India
Singapore
China
Hong Kong
United Arab Emirates
Italy
Japan
Spain
Brunei Darussalam
Qatar
South Africa
Portugal
Viet Nam
Ireland
Thailand
Brazil
Korea, Republic of
Greece
Israel
Chile
Colombia
Philippines
Peru
Oman
Belgium
Switzerland
Cyprus
Poland
Latvia
Indonesia
Here's what teachers are saying
Educircles Review
I just finished this unit in my study skills class with my special education class and everyone loved it. Super fun and interesting activities, the videos were engaging and relevant and it covers each topic so well. I really like the structure of the units because they were all set up the same and I feel like my students thrive on that kind of structure: activities, videos, vocab, repeat. Great curriculum, would highly recommend 🙂

Savanna M.
June 2, 2021
GROWTH MINDSET BUNDLE
Absolutely AMAZING!! Wow! This bundle is one of the BEST purchases I've ever made. The organization is outstanding, the lessons are easy to implement, the quality is top-notch, and everything is teacher and student-friendly. While some may want to use these lessons to supplement their curriculum, I'm thinking how I can use my curriculum to supplement these lessons!! This is just awesome. I cannot thank you enough for all your hard work and support. You are appreciated!! 🙂

P.S. I had a few questions about this bundle….the quick and thorough response I received from this seller was so helpful. I highly recommend!! 🙂 Thanks again!

Tara Brown
December 1, 2020
GROWTH MINDSET BUNDLE
I love these presentations and the activities to keep students engaged. I'm using this with both in-person and online students. Super easy to assign work online due to the way the resources are organized. The class I am using this with is a "current events" class but I wanted to first focus on how to think critically before jumping into actual events happening in the world. This is a fantastic way to get them thinking before learning all about our media and how to analyze the content they read.

Britni D.
January 20, 2021
CRITICAL THINKING
This is an exceptional high quality resource that is worth more than it is, once I opened this product I was so impressed with the professionalism and dedication that was put into creating a high quality informational unit that is based on reliable sources throughout the entire package! I am very pleased with this purchase as my scholars are too, for they are the ones that receive this credible, reliable, and highly beneficial learning information that gracefully supports students through the learning process with rigorous content, that allows deeper learning opportunities for those that need that deeper level concepts for true engagement into their learning experiences! Highly recommend this phenomenal resource.

Deanna S.
October 1, 2020
Classroom Citizenship Debates
This was a wonderful supplemental resource to teach the Deep Learning Competencies. It was a great visual for students and helped me narrow our lesson's focus.

Nicole S.
August 7, 2019
Classroom Citizenship Debates
Here's what teachers are using:
Educircles Resources
Reading Comprehension Articles
(differentiated learning – each written at 3 different grade levels)
Here's the game plan at Educircles:
Create EPIC RESOURCES
that empower students with a growth mindset
that SAVE TEACHERS TIME
so you can focus on everything else
and help make a BETTER WORLD
where we stand up for ourselves and each other.
…
Educircles Freebie #7 – Check your Inbox!

Hey teachers, I just sent out a free Critical Thinking article about online shopping. Perfect for Black Friday and the holiday shopping season.

If you're part of the Educircles Club newsletter, check your inbox.

(Here's what the email looks like: Critical Thinking, Online Shopping, and Black Friday!)

---

Good luck with Parent Teacher Interviews.

Good luck to those of you who get quality one-on-one time with the parental units!

---

Where did the weekend go?

I'm rebooting my daily updates on the Educircles website.

Why?

Well, recently I started a YouTube channel for the TPT Seller community. I post videos to help teachers use Strategies, Effort, Optimization, and Tinkering to become teacherpreneurs.

(I believe that entrepreneurial adventure is a fantastic, authentic 21st-century learning task. If teachers can figure out how to be successful with a side gig or side hustle, they will naturally learn lessons in grit, tenacity, and resistance.

As teachers, we teach what we know. So, if we have first-hand experience figuring out how to succeed in an open-ended real-world task, those teachable moments will naturally show up in our lessons to students.

If you want to learn more about how I'm helping the Teacher Seller community, check out https://youtube.com/@SEOTpreneur

---

You are not alone.

Week of Sun, May 1, 2022 update: May is Mental Health Awareness time!

Teaching can be a tough gig, especially now.

We do everything for our students, our families, and our work because our job is important and we make a difference.

We don't really share stories about our own mental health successes and challenges. Fake it til you make it.

A first-year teacher is expected to do the same job as a veteran teacher.

Imposter syndrome is real.

Sometimes, we feel very alone.

(more…)

---

If you purchased an Educircles product between January to March 2022, thank you!

I just donated $992.54 to Student Mental Health organizations.

Your honest reviews help me to improve my products to help more teachers.

10% of your purchase helps students going through a tough time.

Here's why I do what I do.

⭐⭐⭐ Teachers around the world have DOWNLOADED over 58,782 Educircles resources!

Check out where teachers have bought my resources (map.)

THANK YOU to everyone who has purchased an Educircles product.

With your help, Educircles has DONATED $9,344.68 to STUDENT MENTAL HEALTH organizations!

---

Passover, Easter, Bunny, Long Weekend

Chag Pesach Sameach if you are celebrating Passover. 

God Bless if you are observing Easter. 

Happy Easter if the Bunny is visiting your household.

And, Happy Long Weekend if you have one!

---

Are you already counting down to the end of the year?

Is it time to give your students a pep talk to keep your sanity?
What do your students need to work on the most?

---

---

---

It's snowing…

It's snowing up here in Ottawa right now.

I hope it's warm and sunny wherever you are!

---

Ramadan Kareem!

Ramadan Mubarak (to the teachers and students who are observing Ramadan this month!) May your heart be filled with peace, harmony, and joy.

---

Educircles Survey – March 2022 edition – Winners

Answer 3 easy questions to enter a random draw for a $10 TpT gift card. Terms and Conditions apply. See details on the contest form.

ODDS of WINNING as determined when the survey closed:

5 people won.
7 people entered.
If you entered, you had a 71.4% chance of winning (5 out of 7)
(If there's a problem with my math, please email

[email protected]

)

Lynn (Niagara Falls, Canada)
Vanessa (Guelph, Canada)
Alexis (Orangeville, Canada)
Dianne (Horseheads, United States)
Jason (Strathroy, Canada)

(more…)

---

Wait… where did March go?!?

I was going to say Happy Spring… and then I realized, it's almost April Fool's Day…

What happened to March?!

---

Happy Spring!

(for those of us in the Northern Hemisphere)

NEW: Ask Why to improve Reading Comprehension and Self-Awareness learning skills.

When I publish new resources, they are free or heavily discounted.

---

Happy St Patrick's Day (to those of you who are celebrating!)

Today I learned that the shortened version of the name can be seen as offensive to some. This Merriam-Webster post gave me some more insight into the issue!

---

What systems (routines or habits) do you have in place to make life more manageable?

I've turned off notifications on my email apps to reduce interruptions.

Now, I schedule a time in my day when I check my email and either quickly respond, or make a to-do list item to respond.

By being more purposeful with my email, I'm trying to manage my stress and focus on what needs to be done.

What about you?

---

Happy Daylight Savings Time!

Where does the time go? 

Seriously. An hour just magically disappeared into the vortex as we spring forward into, well, Spring.

---

Happy March Break!

For those of us who are heading into March Break, wishing you and your family a restful break.

---

Today is International Women's Day!

Take a moment to answer the following four questions:

How do the girls in your class see themselves reflected in media?

How do the students in your class see girls reflected in society?

Are there any patterns (or stereotypes) in how women are portrayed?

Are women equally represented on screen (i.e. film, tv)? You might be surprised that the gender gap hasn't really improved in over half a century.

Here's a FREE Critical Thinking resource to ask your students Who is Invisible?

---

Are you happy?

If yes, why do you think that might be?

If no, why do you think that might be?

What could you do that might make life better?

For me personally, I'm constantly go, go, go!

Then, I feel stressed out that I don't get everything done.
I think if I spent a little more time figuring out what has to get done (and figuring out what I might be able to say no to,) I might be happier…

---