Educircles Survey – March 2022 edition – Winners
Answer 3 easy questions to enter a random draw for a $10 TpT gift card. Terms and Conditions apply. See details on the contest form.
ODDS of WINNING as determined when the survey closed:
5 people won.
7 people entered.
If you entered, you had a 71.4% chance of winning (5 out of 7)
(If there's a problem with my math, please email

[email protected]

)
Lynn (Niagara Falls, Canada)
Vanessa (Guelph, Canada)
Alexis (Orangeville, Canada)
Dianne (Horseheads, United States)
Jason (Strathroy, Canada)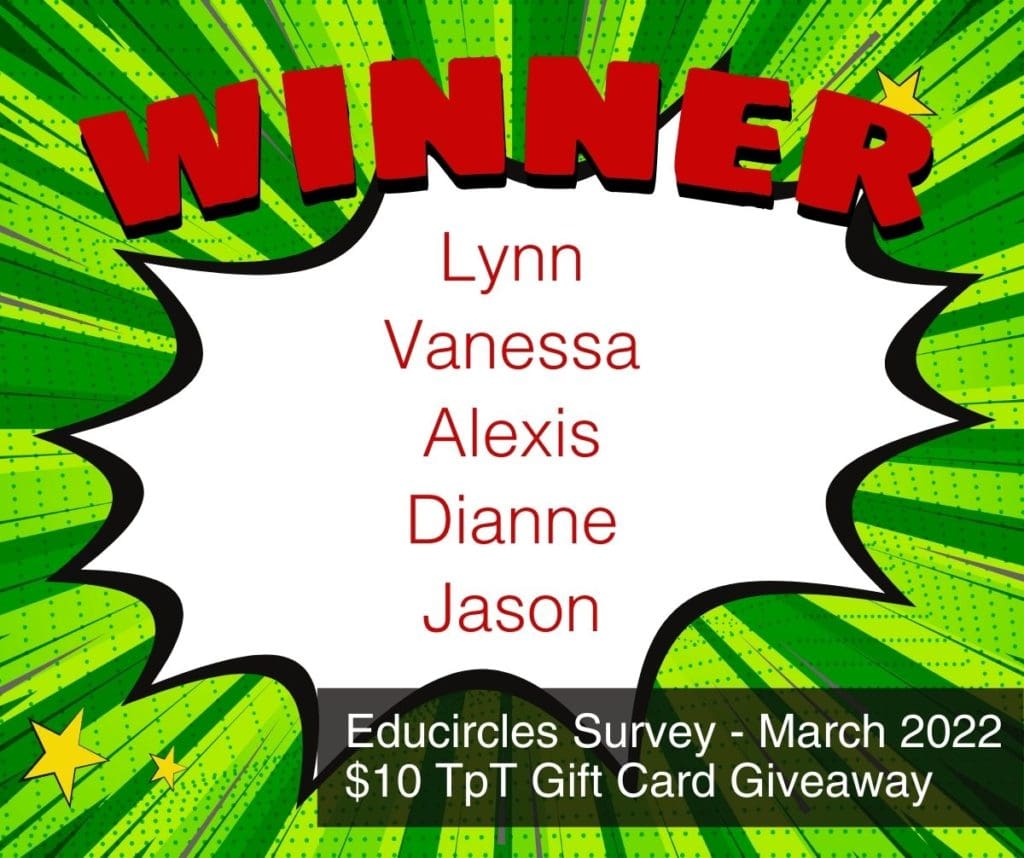 This random draw was done on RANDOM.org
The verification code is tcssao
Note: RANDOM.org takes down the verification page 30 days after the draw. (I have no idea why. Maybe to save on server space? Maybe because they like receiving emails? Who knows!)
If the verification page is down, there will be an email address instead of the results. Simply email them to have them temporarily turn on the verification page so you can check the results!
Click here to see the verification page: tcssao
Created April 5, 2022 2:49:11 AM
Completed April 5, 2022 2:49:21 AM
Expires May 5, 2022 2:49:11 AM (Times are Canada/Eastern time)
Here is a screenshot of the verification, but please note that sometimes I lie.
(Can your students figure out the lie in this Did I Cheat? Critical thinking challenge?)
Learn more about my Free TpT gift card giveaways!