Free TpT Resources and TpT Gift Card Give Away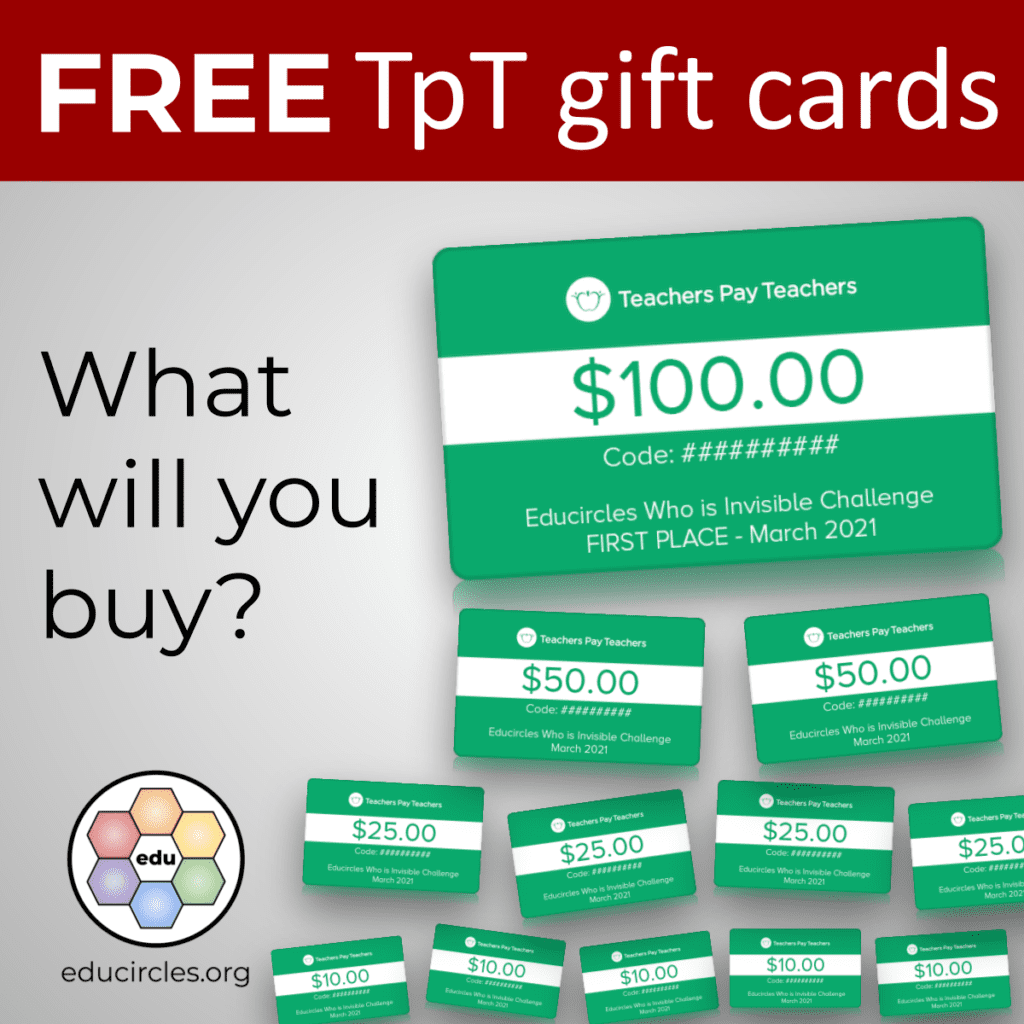 FREE TpT Resources / Gift Card UPDATE Feb 6, 2021
Here are 2 ways to get free TpT Resources:
1. The seller gives it away for FREE.
2. You get someone else to pay for the TpT product. (How to get FREE TpT gift cards.)
Obvious? Yup. But, have you ever asked yourself why that resource is free?
There's a reason why that TpT Resource is FREE.
It's FREE because TpT requires us to publish at least one free resource
It's FREE because it's teaser content of other related resources. If you like this, you'll probably like that.
It's FREE because the teacher-author thinks this is an important resource to help more people teach a concept to students.
It's FREE because we want to build good-will or try to get great ratings to help our store. Store ratings are social proof that your stuff is good stuff.
It's FREE because it follows the FREEMIUM model. You offer some stuff for free because you know your people who really like this stuff will eventually need a premium feature or product somewhere down the road.
Personally, I have all 5 different types of free TpT resources in my TpT store.
Some TpT resources are free because they have to be
TpT authors like myself are required to publish at least one FREE resource before we can sell on Teachers Pay Teachers.
So, that resource may not be the best of the best.
Or, it may be awesome, but it may not look like high quality – learning how to market resources on TpT is a skill that grows over time.
What does that mean?
Often times, we have to sift through a lot of FREE stuff to find the diamonds in the rough.
One of my first resources was a Growth Mindset poster that I made and used in my classroom.
It was a poster I made and printed on my classroom door. (Yes, I had an 11×17″ colour printer at home because I liked doing this sort of thing.)
It was easier for me to upload and publish this quick file on TpT than trying to polish up some of my other resources.
Sometimes, you just have to start and jump in (video)!
That first poster resource has only been downloaded 83 times in around 3 years.
Jump ahead to now, and I've learned a little more about selling on TpT.
This free "WHO IS INVISIBLE" diversity challenge I just published has already been downloaded 143 times in around a week.
It's an extensive lesson package that helps students think about which groups of people are represented or invisible in resources.
88 slides in the slideshow lesson
Detailed, extensive lesson plan with talking points
20 FREE YouTube videos for students to analyze / evaluate, and then create alternative scripts to amplify the stories we're not hearing.
And it's free.
Some TpT resources are free because they want to be
I should probably charge $10 for that WHO is INVISIBLE resource, but I don't.
TpT generally prefers FREE resources to be 10 pages or under. (At least, that's my understanding based on what they look for in the FREE TpT Resources that they promote in their newsletter.)
My resource is definitely not under 10 pages. But, I'm still choosing to give it away for free.
Why?
I published the WHO is INVISIBLE challenge as a free TpT lesson package because I want more teachers to use it.
Talking about diversity, inclusion and race needs to move beyond "heroes and holidays."
That's a great start, but the conversation can't stay there or it become a little bit like tokenism: Oh, we did Black History Month, so I'm good for the rest of the year.
Tackling big issues like racism, discrimination, surviving a pandemic, doing everything right and still losing your job, trying to build healthy relationships…
That ain't easy. But, it's worth it.
Preparing students (and ourselves) for the 21st Century means practicing transferrable skills that we can apply in any situation.
Nothing works for everyone, all of the time. The questions of tomorrow haven't even been asked, yet!
How do we help students find their own answers?
It means we
That's more core belief, and also my core product.
So, I give away what I consider to be an awesome TpT product for free in the hopes that it helps…
make the world a better place.
give teachers a sample of what my products are like
encourage like-minded teachers who believe in the 6 Cs and 21st Century Learning to check out my other products and resources.
drive more traffic to my SEOT Steps to Success goal setting resources.
Oh, and I try to promote my free products by giving away TpT gift cards…
Educircles FREE TpT gift card give-aways
I want to give back to the teaching community.
Teaching is a fun and rewarding job, but it can also be incredibly challenging. And, that was before the pandemic.
If you receive a TpT gift card from me, you're welcome to use it to purchase anything on the TpT store. (It doesn't have to be from my Educircles TpT store, although I'd appreciate it if you have a peek at my lessons.)
Here are my current contests.
Here are some of the previous contests / winners.
What do you (the teacher) get out of these free TpT gift card giveaways?
Well, free TpT gift cards.
My Educircles TpT Gift Card giveaways are always FREE to enter. No purchase is required.
You can enter and win multiple gift card giveaways.
Some teachers have received 2 or 3 different TpT gift cards from me.
But, please look carefully at the specific contests, as they have a few different rules.
(More information about rules / contest details is given on the Google Form submission ballot.)
For example,
The $500 Who is Invisible Diversity contest lets you enter as many (unique) entries as you want (to improve your chances of winning the grand prize), but you can only win one of the 21 gift card prizes.
On the other hand, the monthly $25 Welcome to the Family gift card give away only lets you enter one entry, but your ballot stays in the fish bowl until you win (or the contest ends, of course.)
And the Follow my Store give away is all based on speed. The first 10 teachers to fill out the Google form in my TpT Note to Followers win a $10 TpT gift card. But, if you win one month, you're still allowed to try to win the following month.
What do I (Mike at Educircles) get out of these free TpT gift card giveaways?
Great question! It's important to think critically and wonder how the other person benefits if a message is accepted.
1. I really do want to help teachers like me
I want to help people who want to make the world a better place.
I want to help teachers who go above and beyond for their students. We're all professionals. Use the free TpT gift card to get the resources you need.
The money for these TpT gift cards comes from the sales of my TpT products, so I'm happy to give back. (I've made over $18,000 USD selling on TpT so far.)
2. I want to know more about who uses my products and how things are going
Hello, market research.
Teachers are busy creatures. We often don't have time to use the bathroom or eat lunch during the school day. It can be hard to find time to collaborate with teachers down the hall, let alone people around the world.
(And, at the time of writing, my Educircles resources have been downloaded over 25,000 times around the world – which is super cool. But, also makes it hard to stop by to pop by your classroom.)
So, in each google form submission, I ask a little question like whether you use Google Apps or Microsoft products… it helps me to know who you are, so I can make better products that meet your needs.
And, of course sell more products, make more money, give out more TpT gift cards, lather, rinse, repeat.
3. I want to create raving fans
I want to find my people (video).
I know from experience that most people won't bother to enter a contest.
The ones who win multiple TpT gift cards from me are the ones who keep at it because they see value in this.
And, these are the people I want to support.
I used to show this video to my students about how to be a leader and make the world a better place. (It's also a 3 min TED talk)
The way to create a movement is not to be the crazy person dancing but to be the first person who stands up and joins in.
There are two parts to this:
As the person who creates Growth Mindset and 21st Century Learning resources, I have to support the first followers.
They're the ones who show others it's okay to join in.
They're the ones who teach these resources in the classroom where their colleagues might take notice.
They're the ones who write great reviews, share ideas, and show it's okay to have a paradigm-shift in teaching:
The point of teaching is not to deliver facts through the curriculum. It's to teach transferrable skills and attitudes through exploration of the curriculum.
As the teacher who finds one of my resources and TpT gift card give aways…
If this stuff really aligns with who you are and how you teach, please enter the free TpT gift card giveaways.
I really do want to connect with you.
"When you find a lone nut doing something great, have the guts to be the first person to stand up and join in."

Derek Sivers, (video 2:06) – First Follower transcript
CURRENT CONTESTS
$500 in TpT Gift Cards
"WHO IS INVISIBLE" Diversity Contest
Teach this FREE lesson.
Enter the contest with this google form.
Contest ends Mar 15, 2021 (11:59 PM ET)
For more information, including odds of winning, click here.
$100 in TpT Gift Cards (10 x $10)
FOLLOW MY STORE – Feb 2021
Click here to follow my TpT STORE
The NEXT 7 teachers to fill out the Google Form in my February Note to Followers will receive a $10 TpT gift card.
Link to the Google form is in my Note to Followers (in your TpT inbox.) For more information, please go to my TpT Store Profile.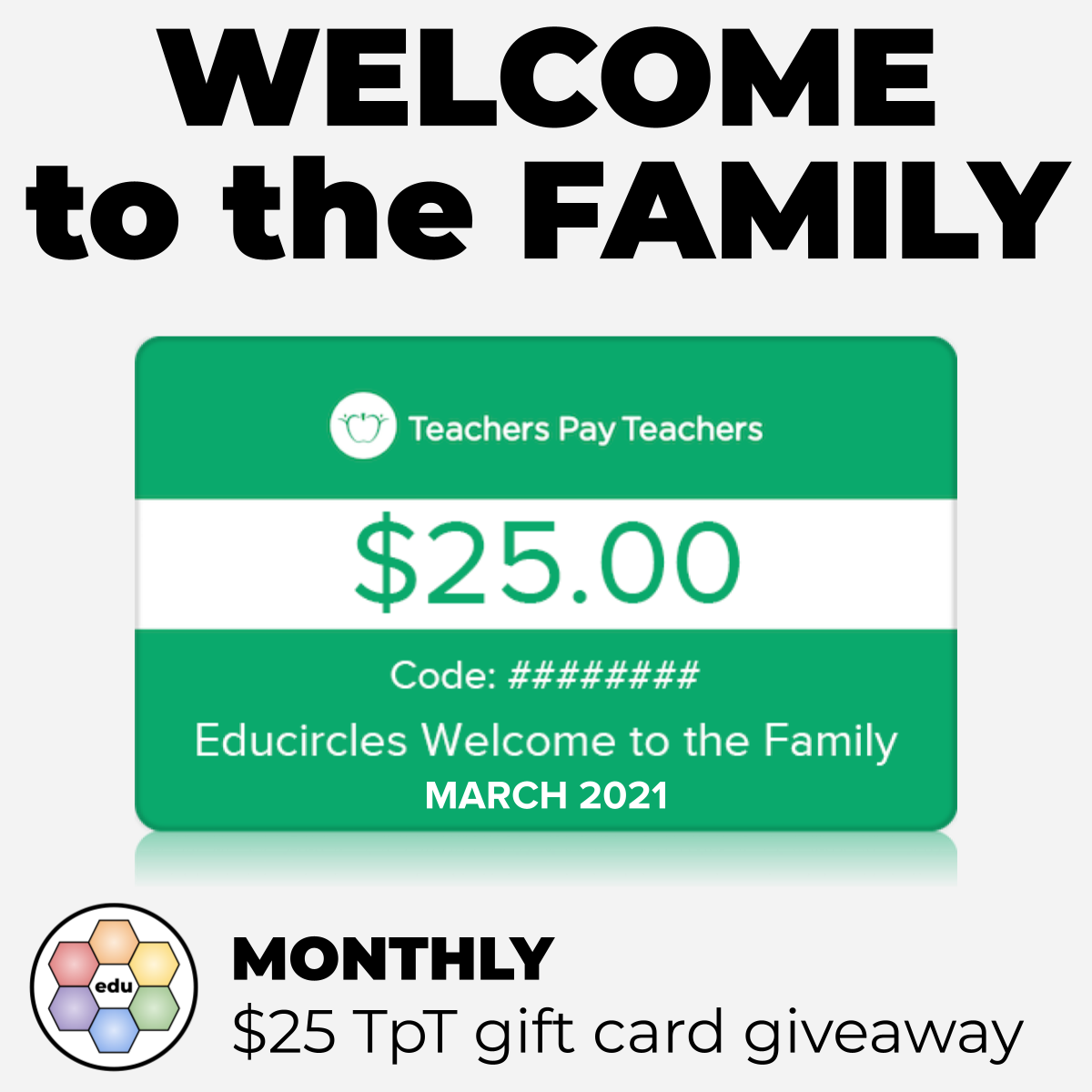 $25 TpT Gift Card
"WELCOME to the FAMILY" give away
Monthly Contest Draw
Enter once. Your name stays in until you win.
Check out the Read Me First (PDF) in this FREE product.
Current odds of winning are 1 in 26
as of Feb 6, 2021 (28 entries received, 2 prizes given.)
PREVIOUS WINNERS
$240 in TpT Gift Cards have been given out so far
(last updated: Feb 9, 2021)
MONTHLY CONTEST
$50 in TpT gift cards given so far.
Ramiro (Buenos Aires, Argentina) – JAN 2021
Christina (Littleton, USA) – FEB 2021

Stay Tuned!

– MAR 2021
FEB 2021
$30 in TpT gift cards given out
CONTEST still open. Check your TpT Inbox.
Mette (Midtjylland, Danmark)
Elizabeth (Fort Covington, USA)
Alessia (Toronto, Canada)
Greig (Queens NY, USA)

not enough participation

, yet!

not enough participation

, yet!

not enough participation

, yet!

not enough participation

, yet!

not enough participation

, yet!

not enough participation

, yet!
NOV 2020
$130 in TpT gift cards given out
CONTEST CLOSED
Lynne (Horseheads, USA)
Veronica (Paterson, USA)
Tara (Grand Rapids, USA)
Gustavo (Buenos Aires, Argentina)
Ramiro (Montevideo, Uruguay)
Claudia (La Paz, Bolivia)
Tiffani (Waco, USA)
Edith (Columbus, USA)

not enough participation

not enough participation
August 2020
$20 in TpT gift cards given so far.
Jim (Toronto, Canada)
Jenny (New Jersey, US)
???
Other TpT gift cards
$10 in TpT gift cards given so far.
Why don't you give away all of your resources for free?
This is an excellent, and important question.
Let's talk about why I charge a nominal fee for some of the lesson plans on my Educircles Teachers Pay Teachers store.
As teachers,
we care about our students, our program, and our school community.
We work with teaching partners, our division teams, and at school meetings to create a safe learning environment.
We watch our students grow, provide just-in-time scaffolding support, and we adapt our lessons and instruction based on the struggles and successes we witness in the classroom.
In other words, we're lifelong learners, and like any artist, we perfect our craft as we go along.
I never thought twice about sharing the stuff I use in my classroom with colleagues down the hall.
I'm more than happy sharing copies of handouts with teachers in the photocopier room. I've designed plenty of lesson packages for my school to help create upwards movement.
And, of course, this is a give-and-take relationship. We all share. We all do that. That's what a professional learning community does!
So why do I charge at all at my Teachers Pay Teachers store?
Here are four things to know about why I sell on Teachers Pay Teachers:
#1. I do offer FREE teaching resources
First of all, some of the lesson plans and handouts I've published on TpT are free.
Here are my free TpT resources:
Here's my free "Who is Invisible" Diversity Challenge challenge – Complete slideshow lesson (88 slides) and detailed lesson plans. Help students analyze and evaluate which groups of people are invisible in our curriculum, media, and life. Then challenge them to create alternative versions that help amplify the voice to a group of people that may be under represented (or not represented.(
Here are the posters comparing marks – levels – and growth mindset that I put at the front of my class above my whiteboard. If you've seen my classroom, you'll recognize these.
Here are the posters and handouts about literacy goals. They're from the Ontario Language Arts curriculum and I use them to connect what we do in the classroom to the curriculum. I've seen these photocopied and used in other people's rooms, even before I posted them on TpT!

We're just getting started, so we don't have a lot of (free or paid) products posted… yet. Hashtag growth mindset.
#2. Our Teacher Lesson Plans and Handout downloads SAVE YOU TIME.
So you can do other things:
Like marking.
And writing emails to parents to keep them up to date.
And collaborating with colleagues.
And doing supervision duties.
And running extra-curricular activities.
And coaching sports teams.
And connecting with other organizations to keep students safe.
And organizing field trips.
And booking the buses.
And getting approval for things that your students need.
And bringing in guest speakers to enrich your program.
And collecting money for various fundraisers, lunch programs, and enrichment opportunities.
And advocating for the needs of your community.


And convincing colleagues about the value of new teaching practices.
And figuring out work-arounds in your class because you don't have what you need, and you've already spent too much on your classroom.
And impromptu meetings about issues that pop up.
And dealing with classroom behaviours.
And writing accomodations and modifications in IEPs.
And differentiating for the wide spectrum of abilities in your class.
And preparing your students for standardized tests.
And photocopying resources.
And trying to get the photocopier to just work.
And then leaving your portable to go to the photocopier room only to discover the file didn't send properly.
And preparing report card comments.
And figuring out the most recent, and most consistent evidence of your students' performance.
And having student-parent-teacher meetings because it takes a village to raise a child.
And trying to keep up on professional development and changes in best practices.
And supporting new teachers in the profession survive and thrive in the first five years.
And going to the bathroom because you've been holding it for that long.
And being a shoulder to lean on for other teachers who are going through a tough year.
And attending school / parent council.
And going to staff meetings.
And worrying about the well-being of the students in your class.
And somehow, with all of this stuff that you do as a teacher, you also need to prepare fantastic lesson plans that are thoughtful, dynamic, well-researched, and based solidly in pedagogical practice?
What do you do if you're a new teacher, and you're expected to do all of that like a seasoned veteran teacher, right from day one?
What do you do if you also have a life, a family, and unexpected emergencies outside of your day job?
What do you do if you feel overwhelmed from reading the list above, and feel the weight of the world because you think you aren't doing enough when you're probably already doing so much!
You take a deep breath.
You try to be better than you were the day before.
And you download one of our teacher packages.
How much time do you save?
Well, here's an example. I'm using timecamp to keep track of where my time goes – it's insightful, fascinating and depressing at the same time.
Creating the Exploring the Six Cs "Week of Citizenship" lesson package took 53 hours of prep work.
35 hours of development from the first slideshow and lesson plan draft, to creating and revising handouts, to polishing and double-checking the final copy, to finally posting on the Teachers Pay Teachers site.

15 hours of revision

to create a more distance learning friendly version (V2)

3 hours of more revision

to re-organize the files to make the new distance learning version even easier to use (v2.6)
And, that doesn't include the hours of pre-writing that went in where we brainstormed ideas for our Six Cs unit and mapped out lesson plans about these transferable skills as a whole.
Oh, and this also doesn't include the years of teaching experience behind the scenes that we're pulling on.
The ideas on equity, fairness, empathy, and classroom debates all come from things done in the classroom.
Would the typical teacher have time to invest 53 hours into a single week of lessons?
No.
Especially not with that huge laundry list of things to do up above, in addition to lesson planning and development for all of their other subjects and things they teach..
Would the typical teacher choose to invest 53 hours into a single week of lessons?
No, probably not.
So, we're in the business of saving you time. Hello, work-life balance!
#3 Free is, apparently, not always good.
One year, my grade 8 class analyzed Terry O'Reilly's Under The Influence podcast on "Tourism Marketing" as part of media literacy. We were trying to make the world a better place and needed some wisdom.
O'Reilly walks us through the case study of Edouard and André Michelin who started a tire business in France in 1889. This was back in the day when people didn't drive much and air-filled pneumatic tires were a novelty.
So, in 1900, the brothers created a guide to encourage travel, with articles on "how to repair tires, where to find gas stations, maps, and a list of mechanics." O'Reilly writes:
They printed 35,000 copies.

And gave them out free of charge.

In 1920, André Michelin paid a visit to a tire retailer and noticed, to his dismay, that his Michelin Guide was being used to prop up a workbench.

That prompted André to charge for all subsequent issues, saying, "Man only respects what he pays for."

That same year, a big addition was made to the Michelin Guide. It began to include listings of restaurants and Parisian hotels.

Circulation jumped to 155,000 copies.
I find this a fascinating idea. To paraphrase Michelin, people only respect what they pay for.
Going beyond the classroom walls: a thought experiment.
Let's pretend you were really proud of a particular lesson.
You thought the slides were fantastic and legit awesome.
You thought the content was important: ideas about diversity and equity, growth mindset, and other things you wished more teachers were talking about.
You thought the talking points and discussion generated was really transformative.
How could you deliver this message to the most number of students in a meaningful way?
You teach it to your homeroom class, and you've reached 30 students.
Or, perhaps you're a rotary teacher and you deliver the lesson plan to 3 class, and you've reached 90 students.
You share it with a few colleagues in your school, and let's say you've reached a few hundred students.
Now what? How do you reach beyond the scope of your school?
You could do a TED Talk and reach a ba-jillion people. Absolutely.
Chimamanda Ngozi Adichie's talk about the Danger of a Single Story is one I use regularly in my classroom. The TED site reports 15 million views alone.
The late Hans Rosling's TED talks and Gapminder work is fantastic edutainment that brings to life the Geography and Civics curricula. (RIP)
Even TEDX speakers like Boonaa Mohammed "Kill Them With Love" are great clips that can challenge stereotypes. (481K views on YouTube in Aug 2018; now over 641K in Feb 2021.)
TED Talks provide fantastic tools for us to use in the classroom. They spark conversations and quite frankly, these people have found a way to say things way more eloquently than I could.
But teachers are the ones in the classrooms, and we're around longer than a 20-minute video clip.
So, how could you get more teachers delivering your ideas and lesson plans?
By selling lesson plans and resources online and letting market forces dictate success.

According to Business Insider in 2013 , one of the top sellers on Teachers Pay Teachers was Deanna Jump, a 15 year veteran of Kindergarten and Grade 1.
Apparently, she earns about $80,000 per month. If you look at Jump's Teachers Pay Teachers store, at the time of this screenshot (Sep 2018), you can see she has a 4 (out of 4) star rating from 381,527 votes and she has 79,591 teachers following her.
Yes, the fact that she is a full-time teacher millionaire is exciting. Who wouldn't want to be that?
But, she's also reached a lot of classrooms. And, that's an impressive legacy that extends beyond her classroom walls.
#4. I try to help make the world a better place
"My Why" is to help make the world a better place.
Watch this SEOT YouTube video where I explain "my Why"
Aside from that, a portion of every lesson sold on my TpT store is donated to support student mental health.
Watch this video to find out why I'm so passionate about 21st Century Skills and supporting student mental health.
Bottom Line?
Article first posted on Aug 5, 2018 at 9:54 pm