Why women should NOT be engineers? Seriously!?
This ballerina and beauty pageant contestant gave a speech about Why Women Should NOT Be Engineers.
And that makes her an epic role model for STEM. Will your students disagree? Read on!
Spoiler Alert: Why shouldn't women be engineers? Because engineers are never just one thing. She herself is a ballerina and an engineer.
Have your students find out what happens next by reading this non-fiction article grounded in social-emotional learning.
Here's Educircles Club Freebie #5:
Click the button to immediately download the attached article, SEL lesson, and discussion questions (6 page PDF).
The article goes over a Tinkering Tip to achieve goals: Embrace Different Life Experiences.
Download free PDF
For those of you who want more, check out the full resource
You get the article differentiated at four reading levels. Reduce students acting out because it's too hard or too easy. Your struggling readers and super stars can read at their level.
You also get sample answers to the discussion questions. Feel better prepared to guide conversations around self-management and critical thinking.
Finally, you get a bonus reading comprehension answer key. Help your students infer using these examples from the text before they read, as they read, and after they have read the article.
Do you already have the Everything Bundle or my SEL Stories Growing Bundle?
Click here to immediately download the full resource.
Questions? Feedback? Suggestions? Collaboration ideas?
Let me know what you think by replying to this email!
Cheers, Mike
Michael Fuchigami
PS – Do you like these SEL stories? I need your help! Read more below.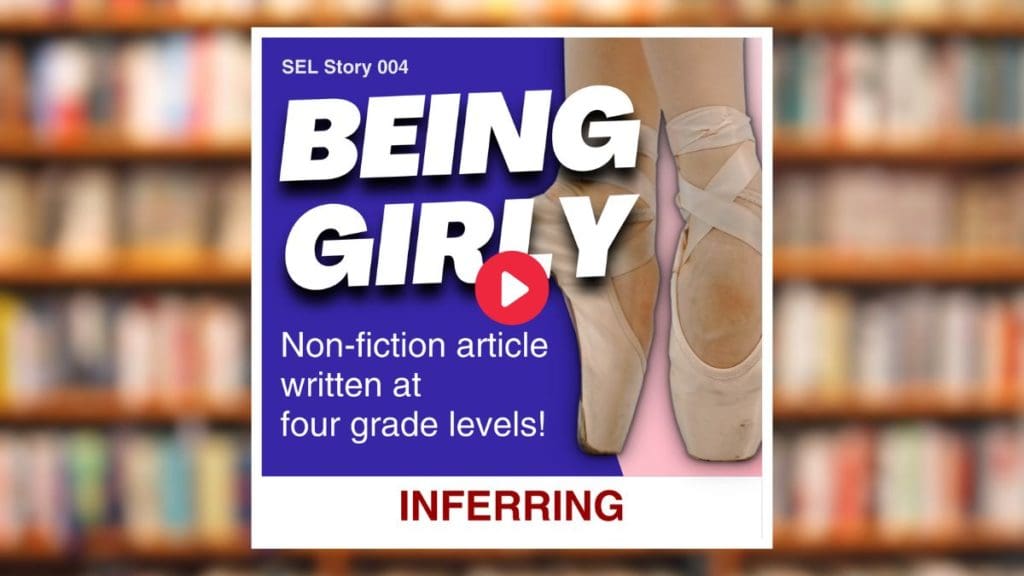 Please note: The red DOWNLOAD FREE PDF button only works when you click it in the email newsletter.
New Product Alert!
I just published a new growing bundle: All of my SEL stories
As I publish new SEL stories, I will add them to this growing bundle
Once you buy this SEL Story Bundle, you get all future SEL Stories for free!
Dear Teachers, I need your help.
My name is Mike Fuchigami.
I used to teach middle school at Longfields Davidson Heights in Ottawa, Canada.
One day, a drama teacher delivered a mental-health lesson about bullying to my Grade 8 students during the first two periods of the day.
The lesson was delivered through story-telling. We watched them perform a play where the main character got bullied and then solved his problem by coming to school and shooting his bullies.
Yes, that's right. One of the solutions to bullying presented to my Grade 8 students was to commit school mass murder. In fact, during the dramatic end, the bullied student delivered a monologue to my students about why it was okay for him to kill his bullies.
And that was it. Students were dismissed. Teachers were not given any resources to follow up the school play with meaningful discussion. Parents were never told about what their children were taught.
Crazy, right?
I fell into a mental health crisis.
I have anxiety and paranoia.
I was afraid for myself and my students.
I felt like I couldn't protect them and that I failed them.
That was the end of my classroom teaching career. Now, I create social-emotional learning resources to help other teachers empower their students.
I really, really, really like this SEL Story series that I'm creating.
I would have loved this as a Grade 8 English teacher.
1) The topics are interesting, relevant, or catchy.

(SEL Story 004 is about a ballerina who did a speech about why women should NOT be engineers. Spoiler Alert: It's because engineers are never just one thing. She's a ballerina and an engineer. But that's a great hook that your students can debate, right?)
2) The answer key is comprehensive.

You can lead a great classroom conversation using either Bloom's Taxonomy or Reading Comprehension Strategies.
3) The resource is differentiated into four different grade levels.

How often do we have a great resource and then have to figure out a way to differentiate the lesson for students with an IEP. The articles are already differentiated. And, the paragraphs are numbered and contain the same concepts, so you can teach and easily use evidence from the text.
4) In the preview PDF for each product, you can read the entire article.

So you know exactly what you're getting before you buy!
I need a little encouragement from you to keep going…
Each SEL story takes me between 20-25 hours to publish.
Finding interesting topics that represent a range of people and challenge stereotypes… oh, with primary source (video) evidence of the person telling their own story: 2-3 hours
Researching the story, writing the article, and differentiating the text: 10-15 hours
Writing up the answer key: 3-5 hours
Making the resource easier to use and understand (one-click copy links, product covers, product previews, different file types): 5 hours
I want to publish an SEL story every week for a year, but I need a sign to keep going.
I've published four SEL stories so far…
I've got four more stories in the works…
SEL Story 005 – stay tuned
SEL Story 006 – stay tuned
SEL Story 007 – stay tuned
SEL Story 008 – stay tuned
I'm sprinting as fast as I can to get these eight stories published.
But once I hit 200 hours of work, I'm going to have to look up to see if this experiment is working… if it's not working, I need to pivot and try something new to see if I can improve the resource!
If you find this SEL Story series useful, important or valuable, please help:
Tell your friends about this SEL Story project.
If you know of a good story lead, please email me! If you think I'm missing a perspective, let me know!
If you made it this far, you're probably my kind of teacher:
dedicated,
passionate,
maybe battling a smidge of imposter syndrome,
and always trying to find that elusive work-life balance.
Thanks for all that you do in your classroom!
Let me know if there's anything I can do to help you and your students.
Cheers,
Mike