Media Literacy Critical Thinking: Did I Cheat Challenge
Medial Literacy Critical Thinking Lesson UPDATE Wednesday May 12, 2021: Received my first valid contest entry last week! Super pumped!
As it stands right now, they have a 100% chance of winning the $100 TpT gift card. But, of course, odds of winning change as more entries are received…
Think. Critically.
Use this FREE media literacy critical thinking lesson powerpoint / google slideshow
to start the conversation!
Note: you can get your own FREE copy of this media literacy lesson slideshow to edit / customize for your specific needs here.
FYI: This lesson is part of the Growth Mindset 21st Century Skills Mega Bundle.
Did I Cheat $500 TpT gift card give away contest – April to June 2021 Edition
Contest now open!
teach the FREE lesson
fill out this contest google form: Did I Cheat Google Form
PRIZES available to be won:
Winners to be determined by random draw.
Grand Prize: One (1) $100 TpT gift card
Second Place: Two (2) $50 TpT gift cards
Third Place: Eight (8) $25 TpT gift cards
Runner Up: Ten (10) $10 TpT gift cards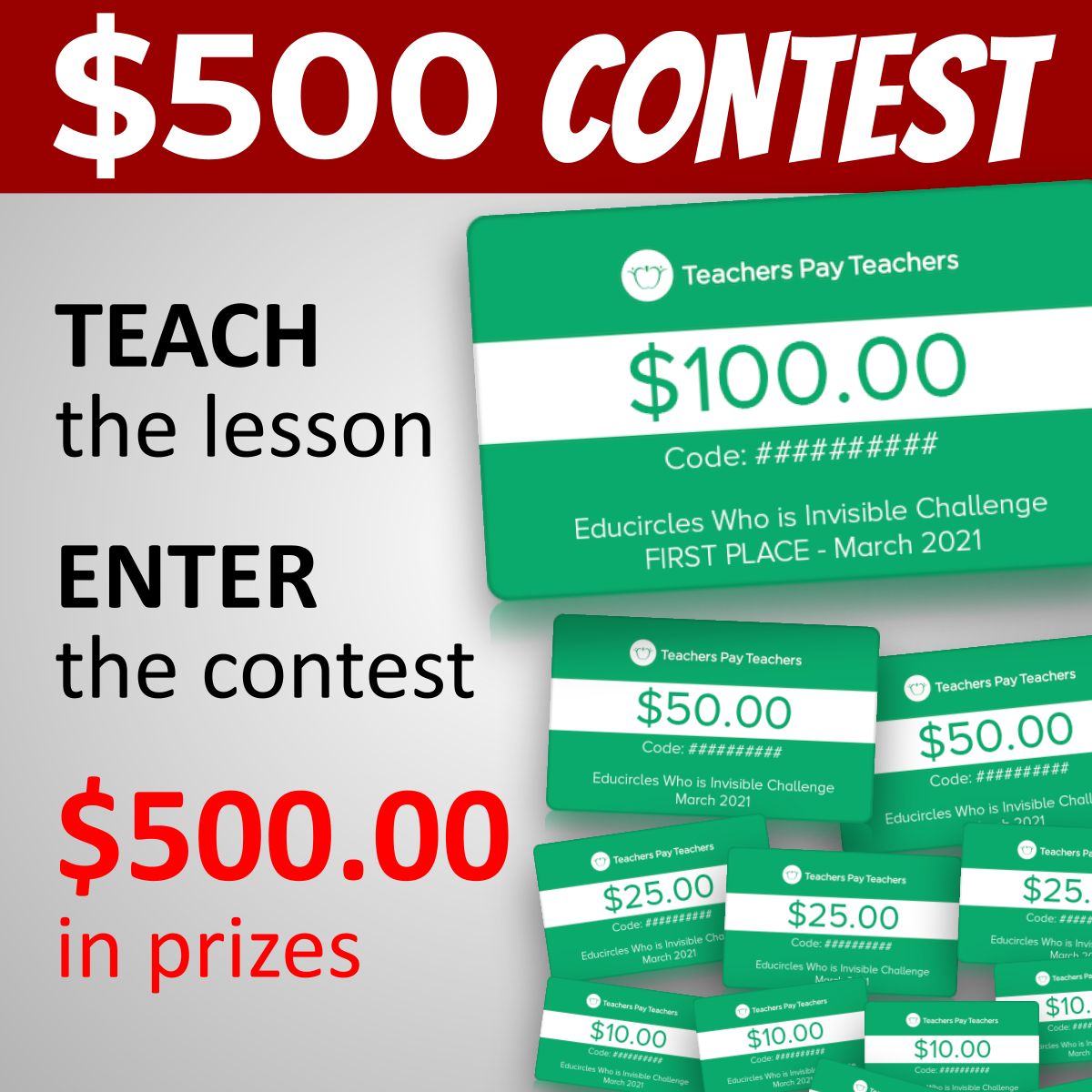 CURRENT CONTEST: Did I Cheat
Started April 8, 2021
Closes June 30, 2021 at 11:59 PM (ET)
This resource has been downloaded 82 times

! Most people don't enter my contests as you can see from previous winners here.
If you've entered the contest, your odds of winning the $100 TpT gift card grand prize is 100% (1 valid entry received so far. They have a 1 out of 1 chance of winning.)
If you've entered the contest, your odds of winning one of the 21 TpT gift card prizes is 100%. (1 valid entry received so far. There are 21 prizes so they have a 1 out of 1 chance of winning a prize.)
1 incomplete ballot has been disqualified. (Read why)
Odds of winning updated on Wed May 12, 2021. Final odds of winning were based on the total number of ballots received when the contest closed.
Reasons why a contest entry response might be invalid:
Invalid Entry #1:
A personal gmail account was used without pre-approval. Teachers at private schools who do not have a school email address need to contact me for verification BEFORE entering the contest. (See rules below.)
The answer to QUESTION #2 in the google form did not create a way TO CHEAT in this online giveaway WITHOUT people finding out you cheated. (Slide 11). "They decided that we would try to get it how hard we can so we could get more work for free because we love teachers pay teachers and the help me so much."
A few notes about authenticity and transparency:
Because the prizes are high-value gift cards, I will do a live stream video drawing
I will use random.org to determine the results.
Watch a video replay of the last live stream contest drawing!
Watch on YouTube: https://youtu.be/H2J918yS4Wk
Some things to know:
Contest will begin when the Google Form goes live.
No purchase necessary to win. The free lesson is available here.

Contest closes 06/30/2021 at 11:59 PM

(ET).
Open to people 18 years or older who are currently or formerly employed as educators.
Void in Quebec, and anywhere this promotion is prohibited or restricted by law, or where requirements would be required but have not been met. All applicable federal, state and local laws apply.

Prizes come in the form of TpT gift cards and cannot be substituted.

TpT gift cards can be used to purchase anything on the TpT store. (You do NOT need to buy something from my store.)
Odds of winning depend on the number of entries received.
Winners will be notified that they have won via email.

Winners must reply to confirm their email address is active

in order to receive a second email which will include their TpT gift card code. Winners may need to complete a mathematical question to qualify for their prize.

You may only enter once. Each person is only eligible to win one gift card in this contest.

You may still enter this contest even if you have won in previous Educircles challenges.
Entries may be disqualified if they are not in the spirit of this contest as determined by Educircles.org. This includes entries to test the google form, duplicate entries, entries with duplicate answers, incomplete entries, spam-like answers, nonsensical answers or simplistic and/or one-word answers. For example, (1) The lesson went well. (2) No, there is no way to cheat. (3) No, there is no way to be more honest.) In an effort to be transparent in this process, if any entries are disqualified, the nature of the disqualification will be disclosed (i.e. please don't use one sentence answers: The lesson went well.), however Educircles is not obligated to inform the teacher submitting a disqualified ballot that their ballot has been disqualified.

You must use your school email address in order to participate in this contest.

This is to confirm that you are a teacher and to prevent people from entering multiple times using personal accounts. Any entries from non-school email accounts (gmail, yahoo, hotmail, etc) or student school email accounts will be disqualified. Your email address will be used for the purposes of this contest and will NOT be added to any mailing lists.
SPECIAL EXEMPTIONS from using a school email address can be made on an individual basis if you contact me at [email protected] BEFORE you enter the contest. For example, if you teach at a private school that requires teachers to use personal email addresses instead of a school supplied email address, please contact me BEFORE entering the contest to put your personal email address on a whitelist of approved emails. Approval for using a non-school email address must be requested at least 24 hours before the end of the contest to allow for verification.
By submitting a contest entry, you agree that any content or information provided by you on the contest form is your original work and otherwise does not infringe the intellectual property rights of any third parties.

Your name, city / country, answers and grades you teach may be posted on Educircles.org, SEOT.ca, the Educircles TpT Store, social media.

Unless prohibited by applicable law, your contest entry constitutes your permission to use your name (First Name, Last Name), address (city / country), and your entry content in any and all mediums, in perpetuity, in any manner Educircles deems appropriate (including for testimonials, publicity, and other promotional purposes) and for publicity purposes without any compensation to you or any review or approval rights, notifications, or permissions; and constitutes your consent to disclose your personally identifiable information to third parties (including, without limitation, placing the winner's name on a winner's list).
Terms and Conditions – Version 2021-04-09
Change Log
Terms and Conditions first posted on 2021-04-07
2021-04-09 updated to allow special exemptions to the school email address requirement on an individual basis – for example, teachers at private schools who are not provided with a school email address.
What media literacy / critical thinking activities do you use to help students become digital literate?