ELA lesson plans – English Language Arts for Upper Elementary, Middle School and High School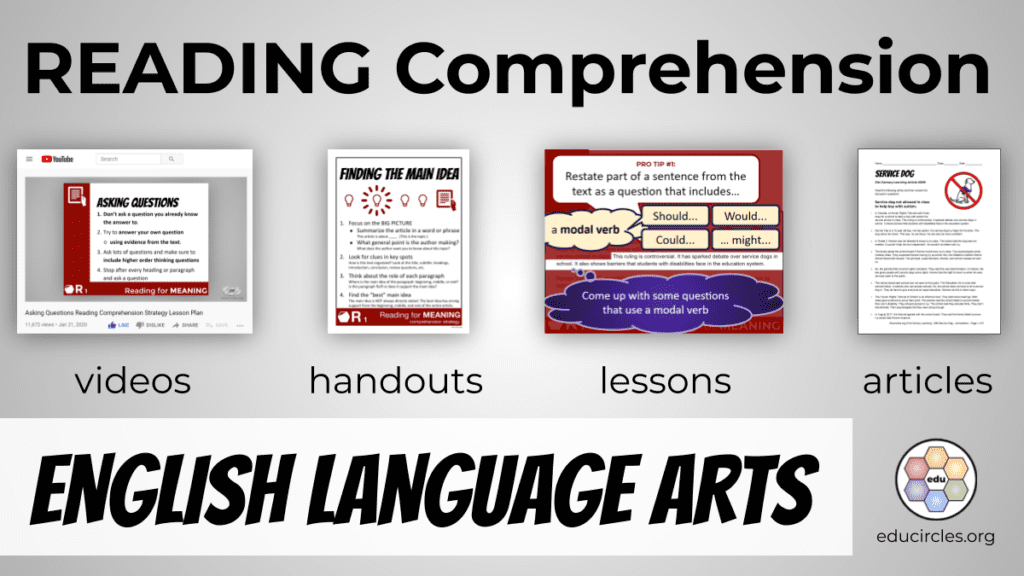 Hey English teachers!
Check out these free Reading Comprehension Strategies video lessons.
These are perfect for:
IN-PERSON teaching
ONLINE distance learning
or to leave behind for the SUBSTITUTE TEACHER
Many of us are looking for English Language Arts resources that fit in nicely with Social Emotional Learning (SEL).
SELF-AWARENESS: These reading videos use a strategy-based growth mindset approach towards reading comprehension
METACOGNITION: Metacognition is a key part of SEL. Exploring the Core has a great infographic about Metacognition and SEL. To give a reading example:
Performance: I can read and understand what is going on. (Understanding / Reading Comprehension)
Cognition: I can explain what I can do (how I figured out the meaning of a text and why the evidence from the text supports my thinking.)
Metacognition: I can explain the process (reading strategies) by which I know I can understand what I read.
These reading lesson packages include a metacognition handout to help students reflect on their use of Reading Strategies.
By helping students to recognize we use self-awareness and metacognition when we read, it becomes easier to transfer the process to other SEL skills
NEW

! Finding the Main Idea VIDEO LESSON
Watch the FREE video: How to ANALYZE a text and FIND THE MAIN IDEA video lesson
FREE YouTube video lessons: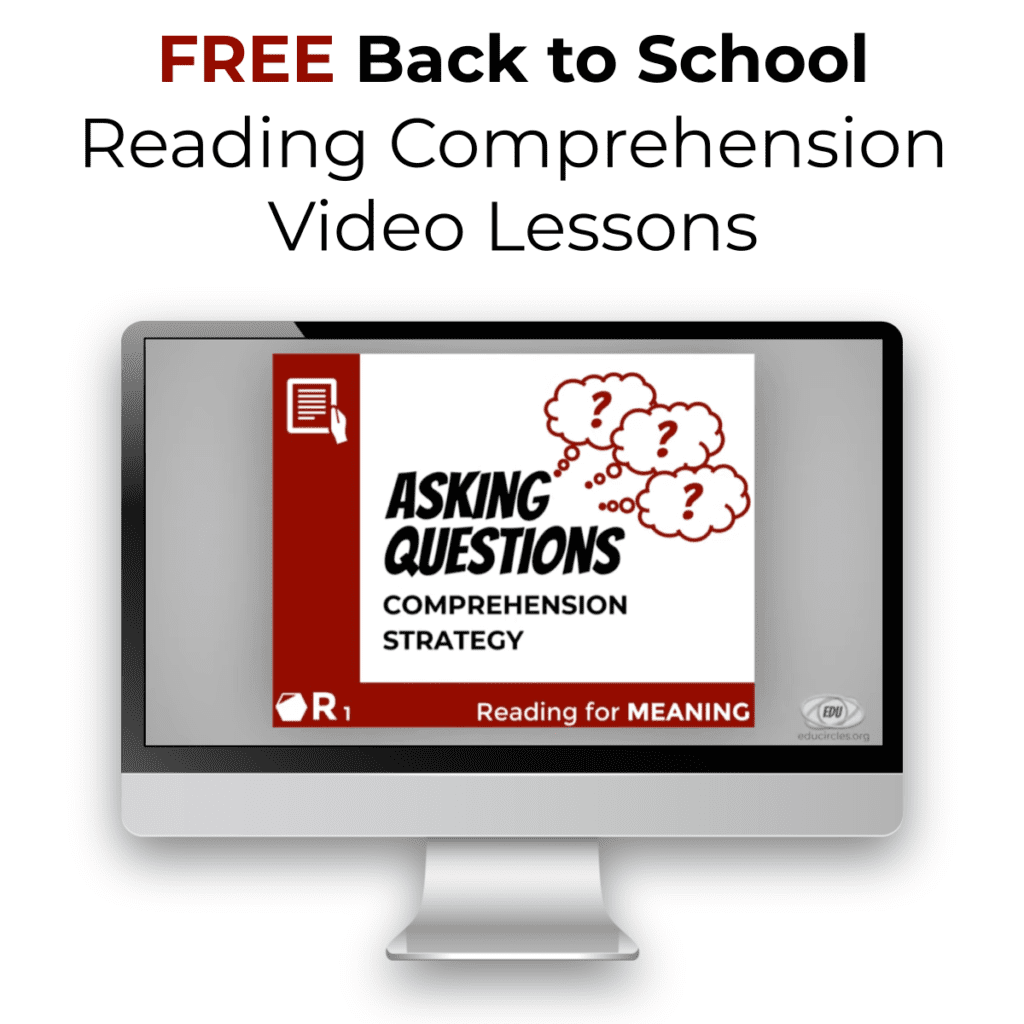 Get the Complete Reading Comprehension Strategy lessons:
Whether you've been teaching for a while, or you're just starting your Back to School planning, check out these awesome Comprehension Reading Strategy lessons.
6 Reading Comprehension Strategy packages with
a YouTube video lesson (for students to review / distance learning)
the slideshow lesson used to make the video (for in person classroom teaching),
handouts to help students use the reading strategy with any text (including before, during, and after reading thinking)
metacognition handouts to help students reflect on the strategy
posters,
detailed lesson plans with script,
and a differentiated article for students to practice the reading strategy.
Oh, and you can edit the Powerpoint / Google Slides and Microsoft Word / Google Doc files to fit your classroom needs!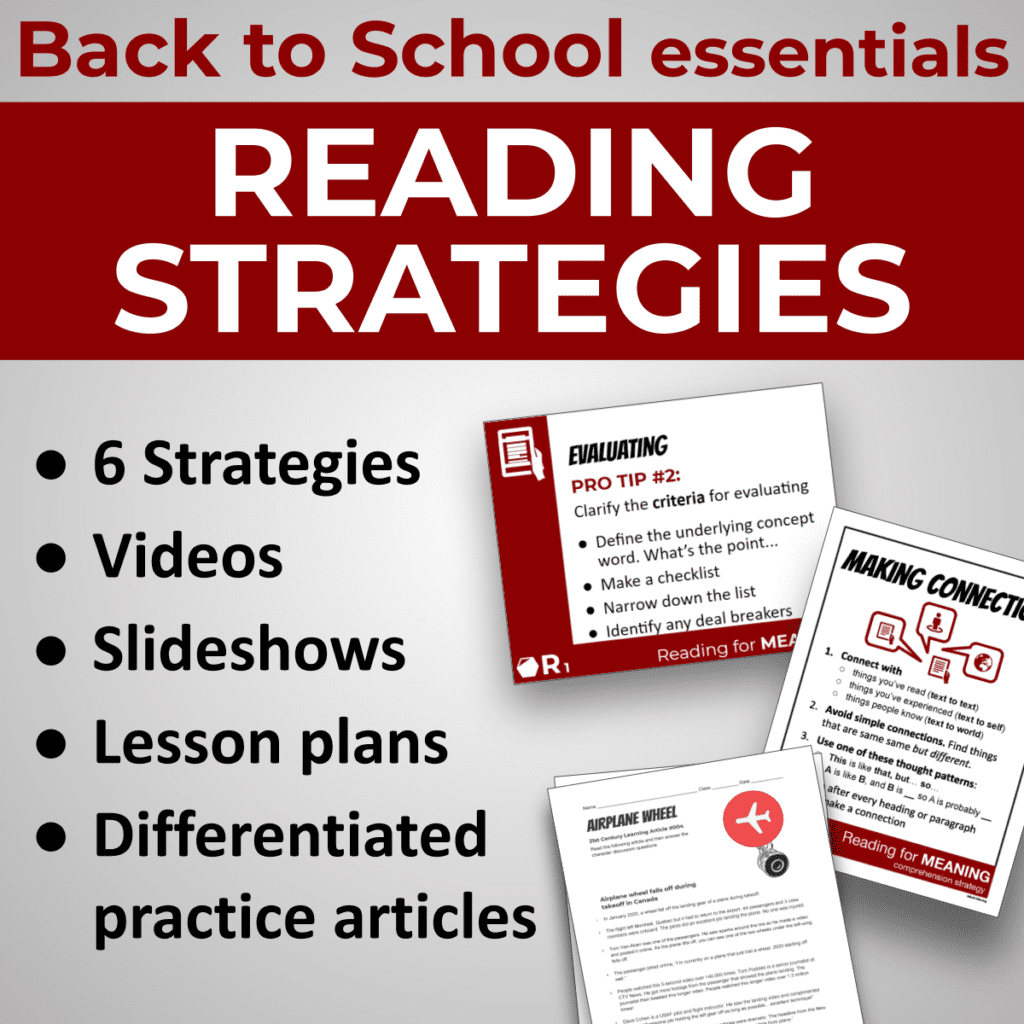 Teach (or remind students) HOW to read during Back to School activities.
Help students actively engage with the text (instead of just passively sounding out the words.)
Or save time and money and get them all in the Reading Comprehension Mega bundle.
Are you freaking out about how your students are behind in reading?
The pandemic definitely changed the way we teach and learn.
A lot of us are worried that our kids can't read as well as previous cohorts.
Check out what Kylene Beers wrote about in an open-letter to education leaders and teachers on her blog. Dr Beers is an award winning teacher, leader, and past president of the National Council of Teachers of English.
Essentially:
Your kids are NOT behind.
They do NOT need to catch up.
Our students are NOT behind because of the pandemic.
(By the way, if you're new to teaching ELA and reading, check out her book, When Kids Can't Read/What Teachers Can Do. It's a game changer!)
As teachers, we're stressed out about how much we can't do. We're stressed out about standardized tests.
But, the reality is, there's so much we've already done.
Teaching Reading Strategies in your English Language Arts class
Reading is more than being able to say the words. (Decoding)
Reading is also about understanding what the author is trying to say. (Comprehension)
(And also what you think about their message. (Critical Thinking)
The problem is, many students believe you either get it… or you don't. And, that's just the way it is.
The reality is that strong readers do specific things to play with the text and figure out what is going on.
But, not all strong readers realize exactly what they're doing. (Not everyone is strong with metacognition.)
Oh, and trying to teach across the internet or with students physically separated during Covid wasn't ideal.
Here are some free youtube videos to help you teach reading comprehension strategies from a distance.
By encouraging a Growth Mindset in our classrooms, we can help students understand that we can get better at reading if we use specific reading strategies.
ELA Lesson Plans – Reading
Here are the English Language Arts lesson plans, handouts, slideshow lessons, and informational text articles that go with the free videos.
These reading strategies and articles were initially designed for Middle School Language Arts (because I taught Grade 8 ELA and that's where my bias is!)
But, these ELA lessons will also work with older elementary students, high school English, as well as more advanced English Language Learners.
Teachers have let me know these resources work well with high school students, middle school students, as well as with students who have learning disabilities or difficulties.
Middle School English Lesson Plan Feedback
Here's what Middle School English teachers had to say about using these ELA lesson plans with their 6th, 7th and 8th grade students: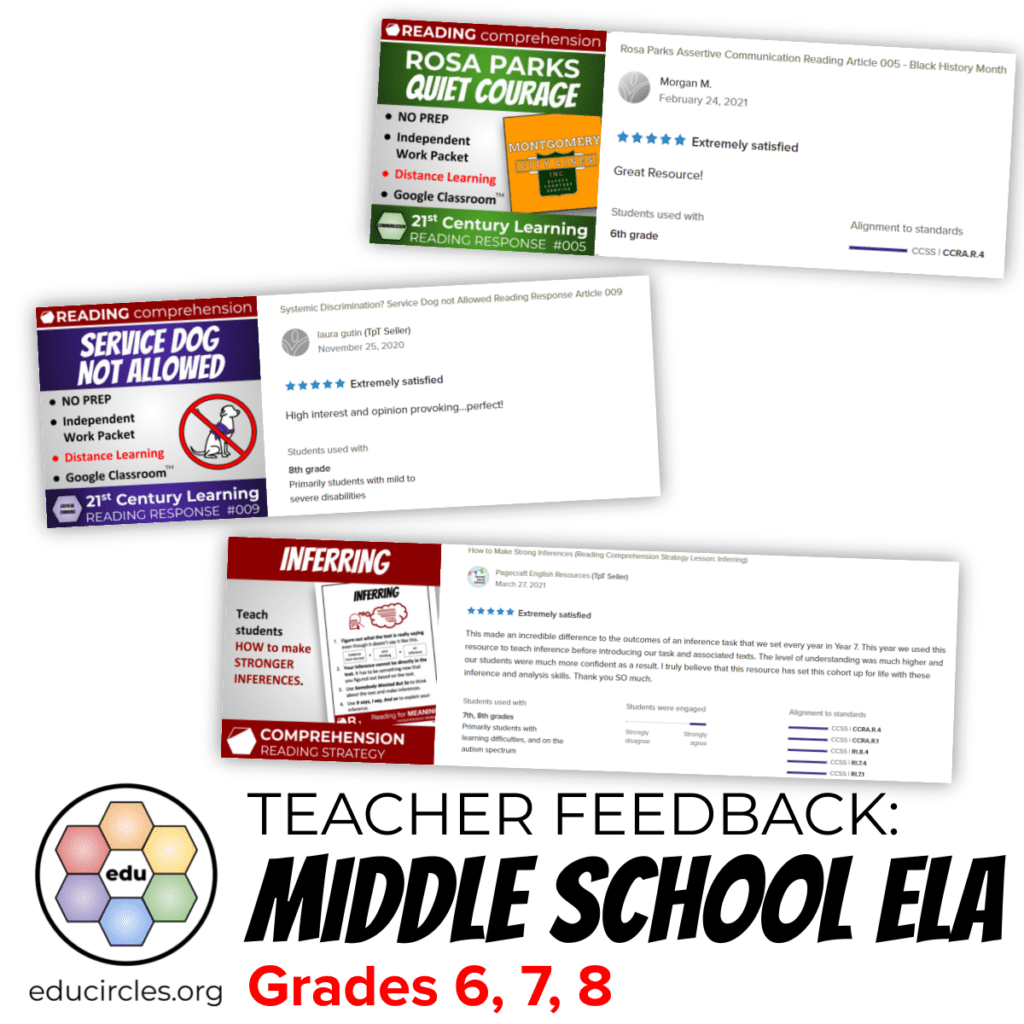 High School English Lesson Plan Feedback
Here's what some High School English teachers had to say about using these ELA lesson plans with their 9th, 10th, 11th and 12th grade students: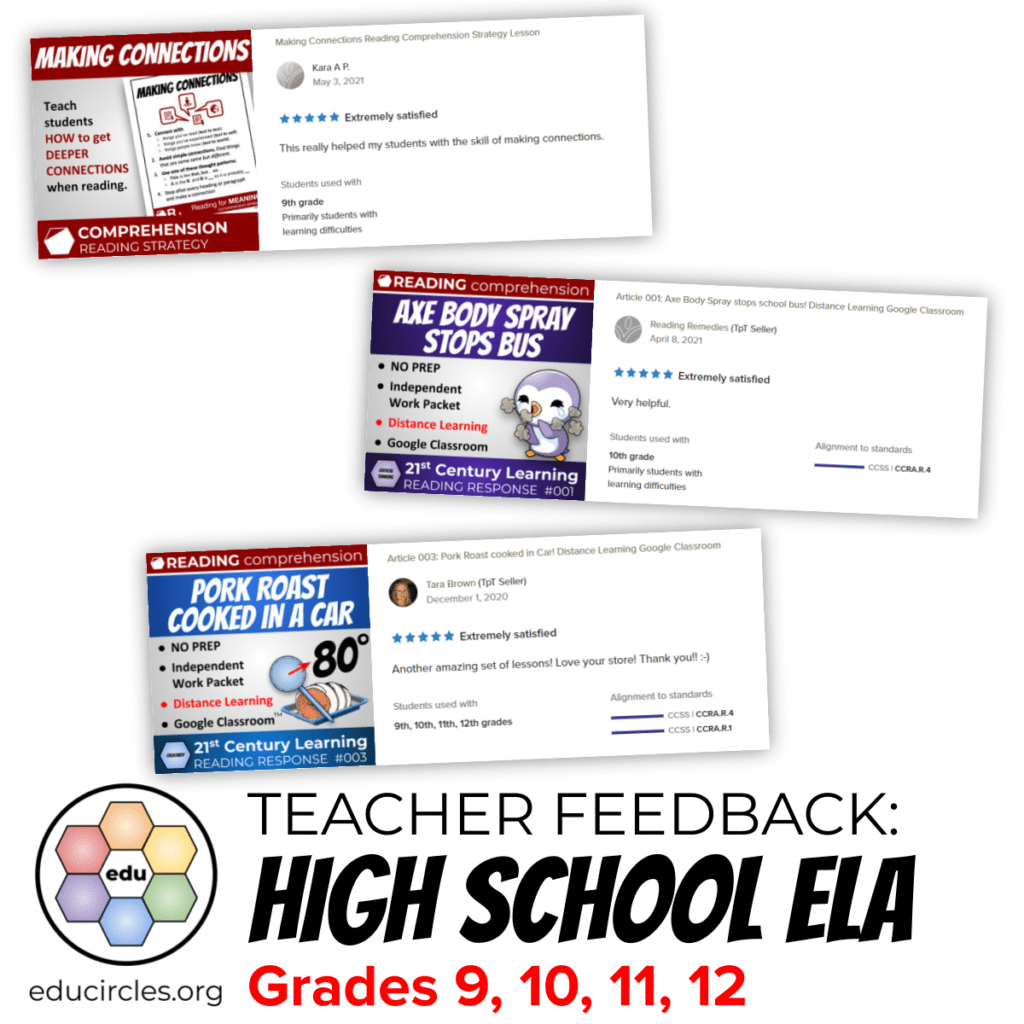 English Language Arts Video Lessons for Distance Learning (Comprehension Reading Strategies)
Check out these free reading lessons on YouTube.
That way students can review the lesson on their own time (after you've used the slideshow to teach the concepts in class!)
Reading Strategies Lesson Plans
Each English Language Arts lesson plan focuses on a different reading comprehension strategy and includes the following:
comprehensive ELA lesson plans that include script and sample answers
slideshow lesson that you can modify to teach the reading strategy
ELA handout that works with any text to guide students through the use of the reading strategy
reading comprehension strategy poster
The slideshow lesson, handouts, and reading comprehension poster can be edited (Google apps.)
This works well, whether you're doing guided reading with booster groups or homogeneous groups or you're reviewing a reading concept with your entire class.
Reading Comprehension Articles
Each comprehension reading strategy above uses a different informational text to practice with as part of the lesson.
If you would like the complete reading article, you can find them below
(Or, save time and money and get the reading comprehension bundle. It includes the slideshow lessons and the articles.)
School denies boy with autism his service dog. The Human Rights Tribunal agrees with the school. Is this systemic discrimination?
Free slideshow and Critical Thinking mini lesson / discussion questions.