Airplane wheel falls off during takeoff in Canada (Reading Response Article 004)
Download the lesson
printable article handout
differentiated reading levels
note taking and paragraph writing handout package
assessment rubric
Newsletter Bonus
If you subscribe to the Educircles Newsletter, check your email for a special link to our Google Drive folder to download the handouts (Link expires in one week.)

Not a subscriber yet? Check out what our newsletters look like.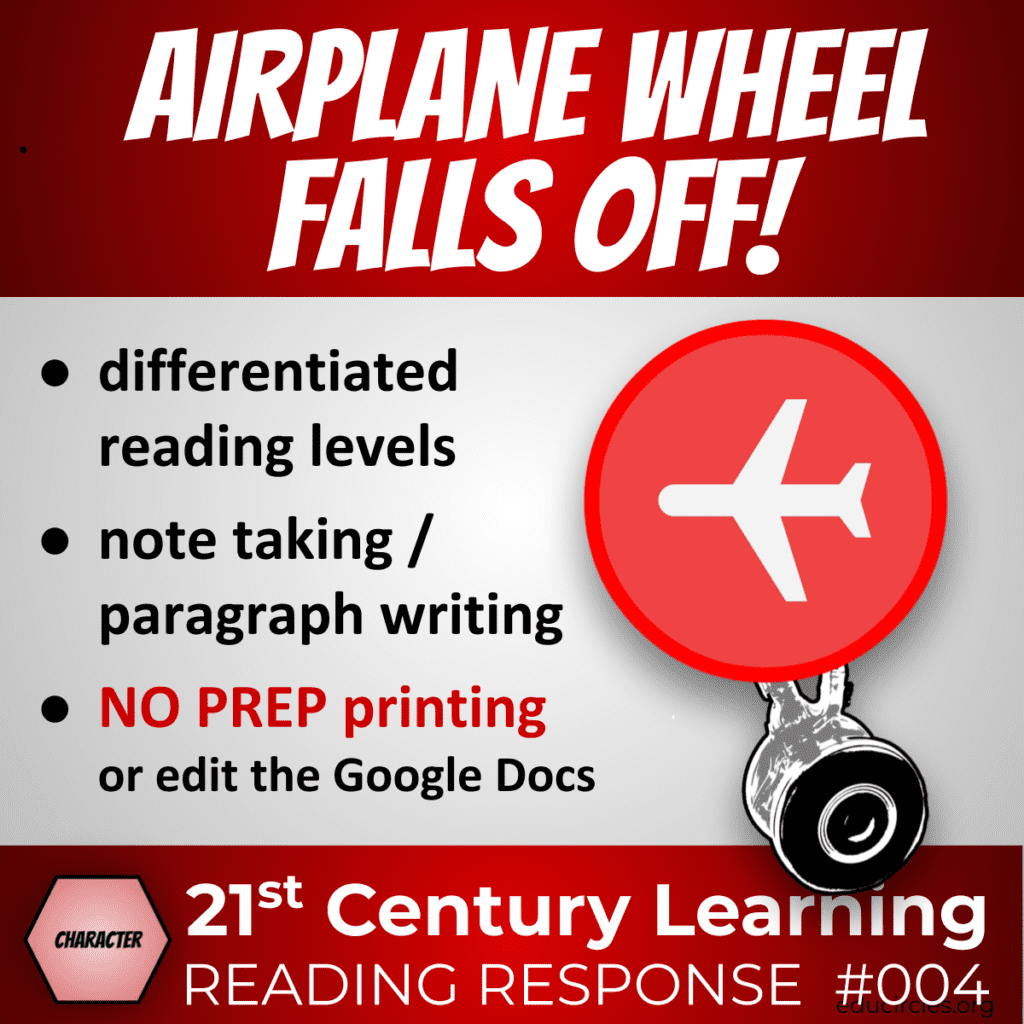 5 Things you need to know:
Plane wheel falls off during takeoff.
The flight from Montreal, Quebec was forced to turn around.
49 passengers and 3 crew members were on board.
The pilots did an excellent job and no one was injured.
A passenger filmed the entire situation and posted it to social media.
Watch the Video:
Click here for the YouTube video link.
5 Quotes to think about:
Quote #1:
A passenger on the flight filmed the wheel falling off and then tweeted in French, "Bon bah là j'suis actuellement dans un avion qui vient de perdre une roue… 2020 commence plutôt bien."
I'm currently on a plane that just lost a wheel. 2020 starting off well.

SOURCE: Tom, @caf_tom / Twitter
Bon bah là j'suis actuellement dans un avion qui vient de perdre une roue…
2020 commence plutôt bien 🤔 pic.twitter.com/eZhbOJqIQr

— Tom (@caf_tom) January 3, 2020
Quote #2:
Several news outlets reported the story. This was the headline from the Travel section of the New Zealand Herald:
Terrified passenger films moment wheel falls from plane

SOURCE: The New Zealand Herald, Terrified passenger films moment wheel falls from plane
Quote #3:
Manon Stuart is a Media Relations contact person for Jazz Aviation:
"Our experienced pilots kept complete control of the aircraft. Our pilots are trained to react to such situations and reacted conforming to proper procedure," Jazz Aviation spokesperson Manon Stuart said in an email.

SOURCE: CBC News with files from Radio-Canada, Wheel falls off plane seconds after takeoff from Montreal
Quote #4:
Michael Hollan is an associate editor for Fox News. He reported what the airline company had to say about the incident:
In a statement obtained by Fox News, a spokesperson for Jazz Aviation LP (a company that operates flights for Air Canada), said, "During takeoff from Montreal en route to Bagotville, one of the two wheels on the left main landing gear became detached. The Dash 8-300 aircraft is equipped with six tires – two on the right landing gear, two on the left, and two on the nose wheel landing gear. The experienced pilots maintained complete control of the aircraft. Our pilots are well trained to deal with such situations and responded according to our standard operating procedures. After burning some fuel, the aircraft returned to Montreal and landed safely. There were no injuries. Emergency vehicles were called as a precautionary measure — the safety of our passengers and crew is our top priority. Our maintenance personnel in Montreal are conducting a thorough inspection of the aircraft to determine the cause and proceed with the necessary repairs."

SOURCE: Michael Hollan, Fox News, Air Canada plane's wheel appears to fall off during take-off
Quote #5:
Dave Cohen, USAF pilot and flight instructor tweeted this about the landing:
Awesome job holding the left gear off as long as possible… excellent technique!

SOURCE: Tweet from @DMCohen01 replying to @TomPodolec
BONUS QUOTE
Tom Van-Aken, passenger who posted the first video:
We were on the plane, when we started to drive on the tarmac we saw little flames on the wheel, little sparks on the left wheel… When we started to speed up to take off, we saw the wheel fall off the plane.

…The landing was the most serious part of this travel because there was only one wheel on the left side of the plane… We started to be serious and we didn't make jokes at this time. When the landing was completed we were very happy because the pilot did a very good job."

SOURCE: CTV News, Wheel falls off on takeoff as plane forced to turn back to Trudeau Airport
Character Mini-Lesson
When we say somebody has strong character, what we really mean is that person has the mental toughness to get through hard times and achieve their goals.
Anyone can learn to be more resilient and develop a habit of trying to persevere.
One way to build that mental toughness is to realize that success is based on hard work, learning, training and not giving up. This is the idea behind a Growth Mindset. 
The opposite of a Growth Mindset is a Fixed Mindset which is when we believe that we succeed based on what we were born with. You either have it, or you don't. 
FYI, just because we're in a Growth Mindset sometimes, doesn't mean we're always in a Growth Mindset. And, vice-versa. Sometimes, even Growth Mindset experts slip into a fixed mindset. If you find yourself in a Fixed Mindset, you can choose to put yourself back into a Growth Mindset. 
When you feel like giving up, just know that you can jump from a Growth Mindset to a Fixed Mindset by adding the word "yet" to the end of a sentence. Instead of saying, "I can't do this," try saying, "I can't do this, yet." Yet helps us wonder how we could do this. It's a shift in mindset. 
Shifting from a fixed mindset to a growth mindset is the beginning of a conversation about how to develop character.
Building character takes time.
When we fail and figure out a way to get up and climb over obstacles, we learn from our mistakes, but we also start to build confidence.
We realize that we can get through tough times.
Overcoming little failures helps us build mental toughness.
We start to build a habit of trying, and the more we try, the more we build character.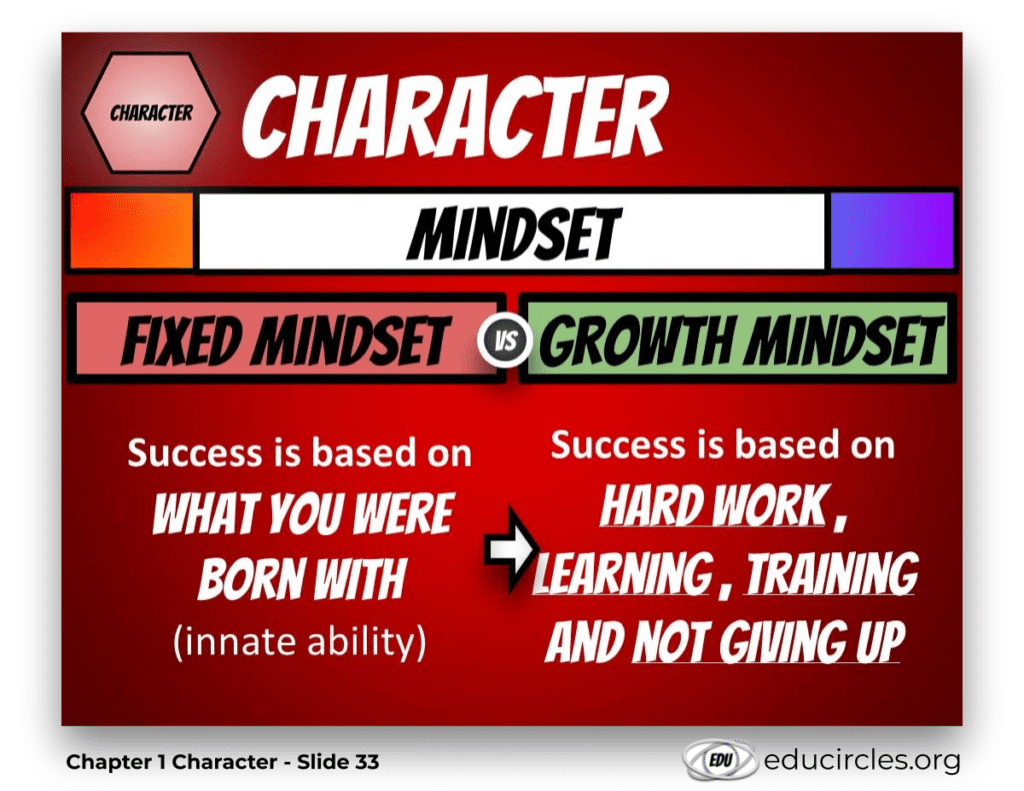 Character Discussion Questions
Based on this Character mini-lesson, how would you answer the following questions:  
How will this emergency have an impact on other airlines and training?
Could this incident have been avoided in your opinion?
How did the pilots show grit, tenacity, resilience, or perseverance?
Why do you think the pilots are able to handle the stress of not having a landing wheel?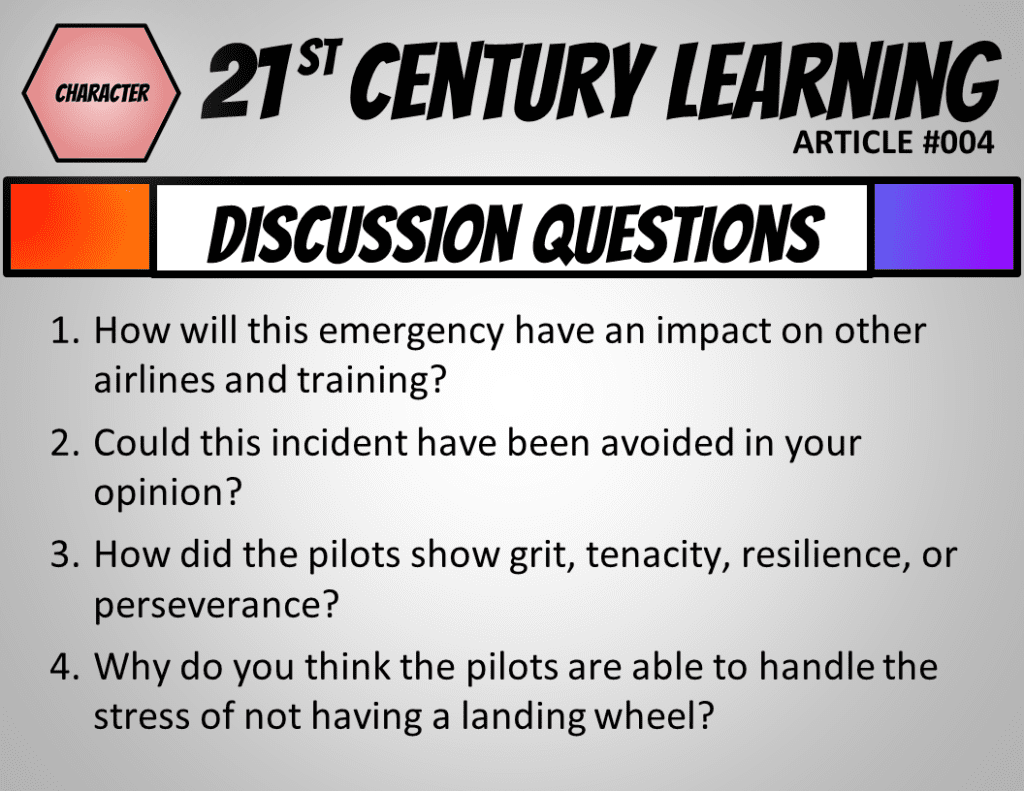 Free Lesson Slideshow
Link to resources used in this article: