I used these 20 Goal Setting Strategies to make $18,871.74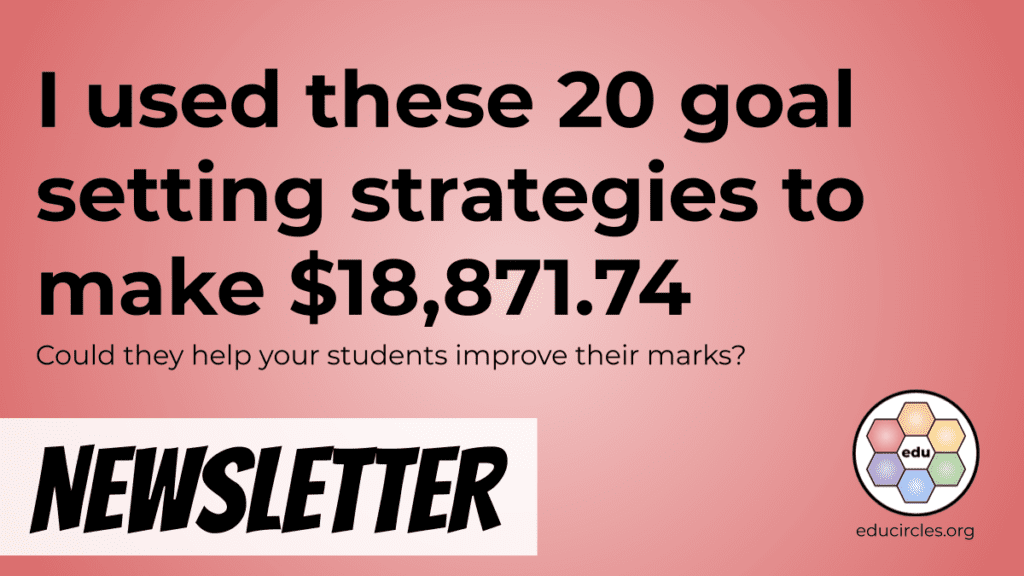 Could these strategies help your students improve their marks?
I bet some of your students want to be rich or famous – YouTube famous, Instagram famous, or famous famous.
I also bet that a lot of them don't put in the effort it requires to get epic results in anything – either because they don't know how to… or they just don't care to…
And, I bet distance learning has made it even tougher to engage students and motivate them.
So, try this angle:
Tell them I made $18,871.74 online. (Here's the proof.)
Then, tell them I use some common sense strategies to achieve my goals.
Your students are going to tell you they don't want to become a teacher or sell lesson plans. But, that's the point.
These are transferrable strategies, skills and attitudes that you can apply anywhere:
making money online,
building healthy relationships,
finding a job, and
surviving a pandemic.
Show them this FREE welcome video. Then, challenge your students to set a goal:
Maybe it's to improve their marks.
Maybe it's to be kinder.
Maybe it's to be kinder to themselves.
Now, challenge your students to do a 30 day challenge to work on their goal every day.
Your students are going to ask what this has to do with making money on the internet or becoming Instagram famous.
And, you remind them these are transferrable life skills
If you can find the inner strength to overcome challenges and improve your grades…
these are the same skills you need to keep going when you only make $10 on your YouTube channel after working so hard to get 1K subs and 4,000 hours of video watch time.
BONUS BLACK HISTORY MONTH angle:
Ask your students which groups of people are under represented or completely invisible in the videos.
Here's a FREE "Who is Invisible?" diversity lesson plan to explain the concept to help students analyze and evaluate the videos.
Students then create alternative scripts to amplify the voices of stories we don't often hear.
Cheers,
Mike Fuchigami
PS: I just posted a note to followers of my TpT store. Check your TpT inbox and you'll find a link to a Google Form with 3 questions. The first ten people to answer those 3 questions get a $10 TpT gift card. (If you don't already follow my TpT store, click here to follow me.)
PPS: I'm giving away $500 in TpT gift cards to teachers who teach this FREE Who is Invisible lesson and then fill out this Google Form. Most people won't enter. What will you do?
PPPS: Save 20% off my entire store (from now to Wed Feb 10, 2021.) On Tue Feb 9 / Wed Feb 10, use promo code FEBSALE21 to save an additional 5% at checkout.