When your students realize you can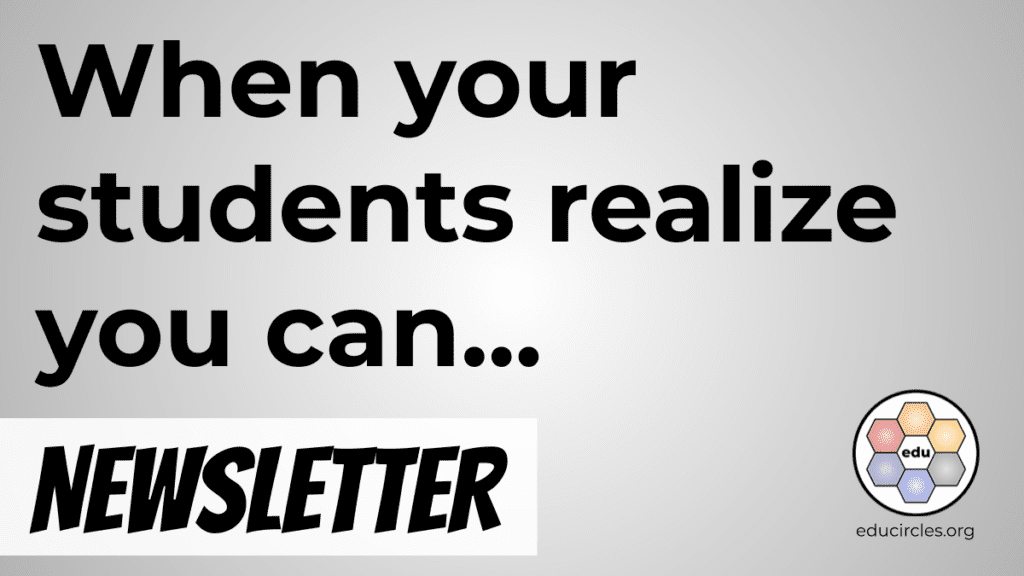 … re-open closed tabs in their web browser!
Hey Teachers!
Hope Back to School prep is going well.
And, if you're already back in the classroom, hopefully, the honeymoon phase hasn't ended yet. (When's the next long weekend or holiday break?)
Here we go!
How to re-open a closed tab in any web browser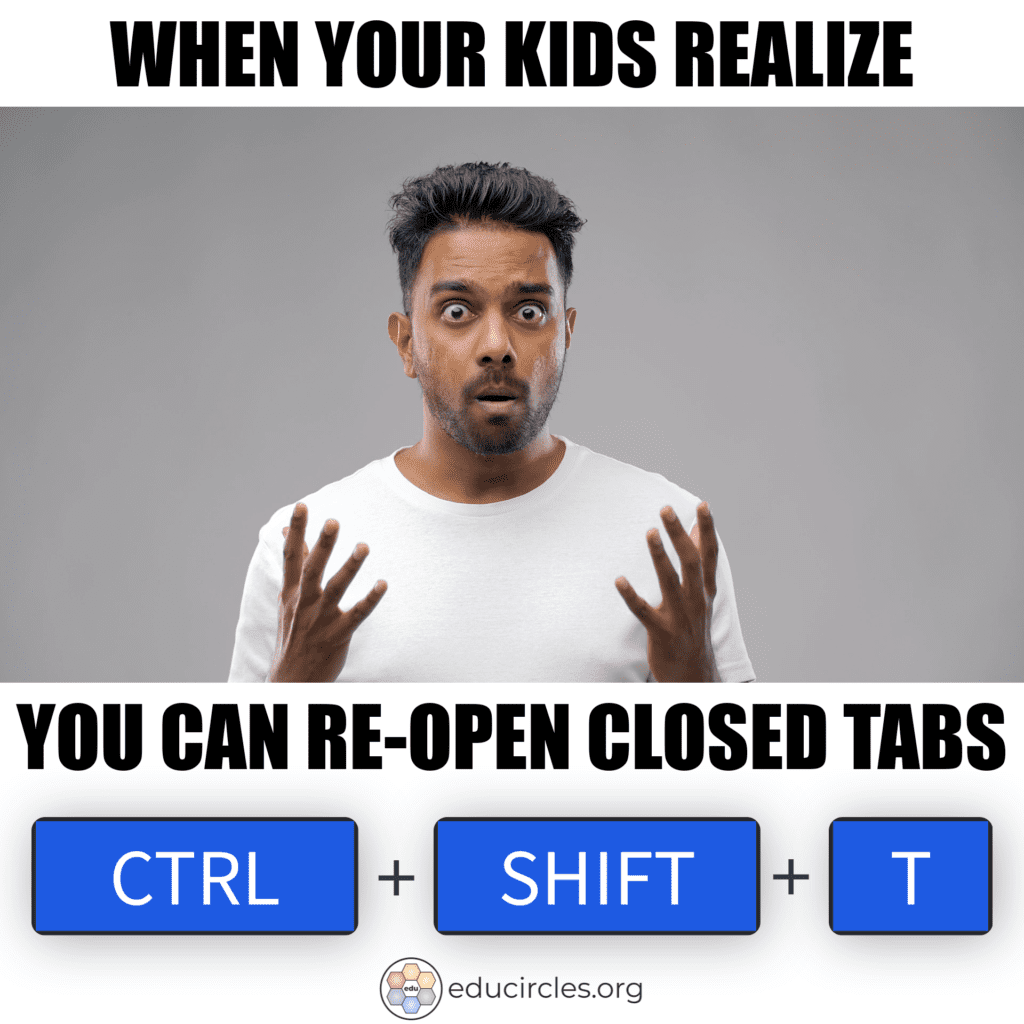 Sometimes, when we're on the internet, we accidentally close a tab in our web browser.
And then it gets frustrating because we didn't mean to close that web page, and we need it!
No worries! Just use the keyboard shortcut CTRL + SHIFT + T and it will re-open the last closed tab.
This is awesome if your students are doing a research project and close a website that has some really good information.
(It's also awesome for teachers. Who hasn't accidentally closed a tab!)
And, if you have a student "accidentally" close a tab that they shouldn't have been on just as the teacher gets close by, no worries! You can help them re-open that page so we can all see what we were working on… (or not working on. You know.)
PRO TIP:
You can use CTRL + SHIFT + T multiple times to go back in time and re-open the last few closed tabs!
This trick works in most modern browsers: Google Chrome, Microsoft Edge, Firefox Browser
This trick works on a Chromebook (because it's running Google Chrome as a web browser)
If you have multiple windows open and close a window that has multiple tabs, CTRL SHIFT T will re-open that window will all of the tabs.
More teachers need to know this trick. Share this page!
Update: Sep 7, 2021, Whoa – just found a situation where CTRL SHIFT T doesn't work!!
I'm just prepping to do my next live stream on YouTube and discovered a case when CTRL SHIFT T will NOT re-open the last closed tab.
If you're in guest mode or incognito mode in Google Chrome (or Edge, or another browser), CTRL SHIFT T doesn't work.
A quick search on the internet found this MakeUseOf post which talks about the difference between Guest Mode and Incognito Mode in Google Chrome.
Here's what it has to say about incognito mode:
This means that Chrome won't save any browsing history, cookies, or form data created in the incognito window. It also blocks the functionality to reopen closed tabs with Ctrl + Shift + T and disables extensions (unless you enable them manually).

SOURCE: MakeUseOf.com
Both incognito mode and guest mode will block CTRL + SHIFT +T
What's the takeaway message?
When we're using the computer like normal – researching things, sending emails, doing work – CTRL + SHIFT + T is a great way to re-open tabs you close by accident.
But…
If you're showing your screen to students and you're using a "GUEST" mode browsing tab (so your students don't see all of your previous searches), then if you accidentally close a tab… you're out of luck!
Or, if you're trying to hide things from your teacher at school, it's a game of cat-and-mouse. There's always a workaround (eventually) so it's really hard to create a fool-proof system.
But still, not everyone knows this CTRL SHIFT T trick… or the ability to stop it.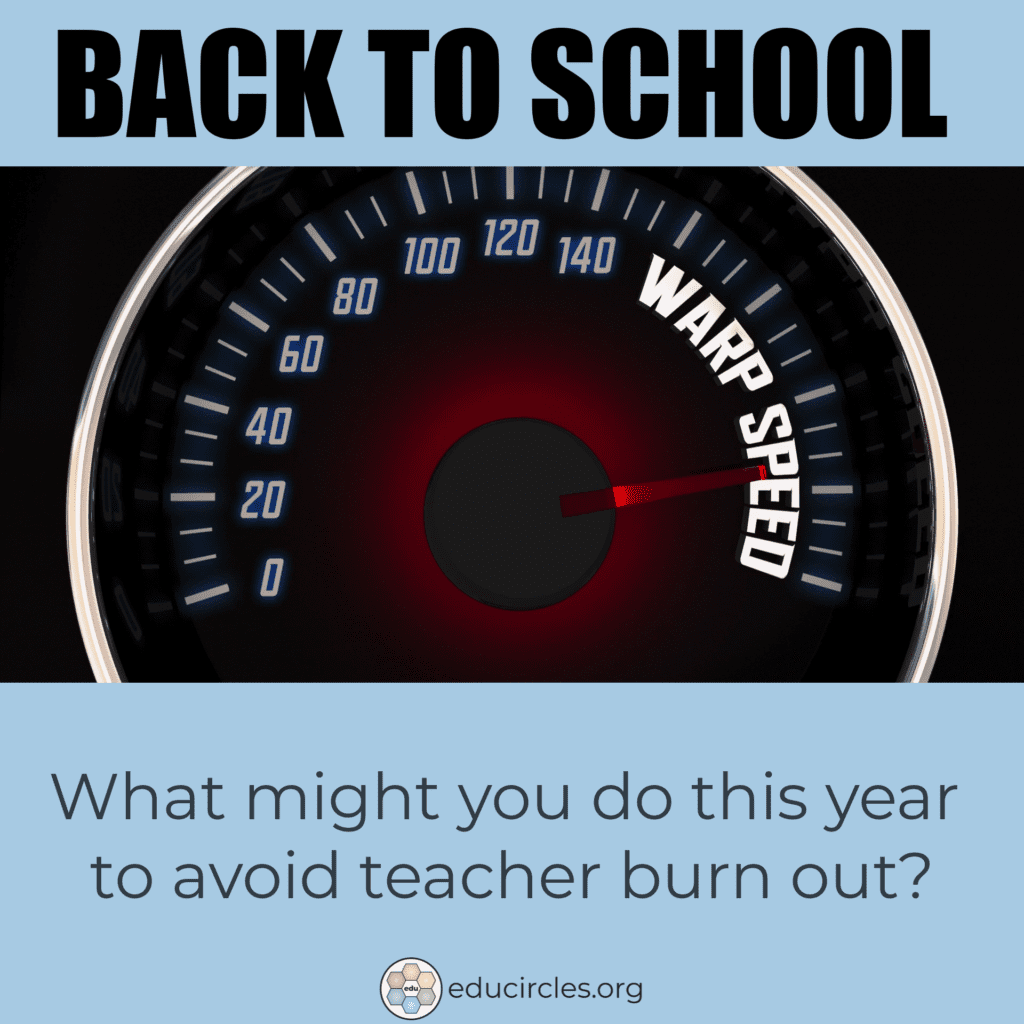 Back to School goes from zero to Warp Speed in no time!
What might you do this year to avoid teacher burnout?
(Seriously. Work-life balance is tough for us. If we do the same things as last year, we'll get the same results…)
Here are some free teacher resources to save you prep time.
(So you can do other more important things. Like, go to the washroom. lol, who are we kidding? Something will happen way before you can get down the hallway!)
FREE NO PREP resources:
Oh, and here are some free TpT gift cards to help you out…
The first 5 teachers to answer the following 3 questions will each receive a $10 TpT gift card
Question 1. Where do you teach (city, country)?
Question 2. What do you teach (grades / subjects)?
Question 3 is posted in my Note to Followers of my TpT Store. (You can find the note in your TpT inbox.)
Note:
You must use the Google Form link in the Note to Followers to submit your answer.
The questions were posted in my Note to Followers on Mon Aug 30, 2021 at 12:41 AM.
The first batch of $10 TpT gift card codes will be sent out on Tue Aug 31, 2021.
If you didn't get this set of questions, make sure to Follow my Educircles TpT store!
Also, read this post to find out about other ways to get free TpT gift cards from me…
Wishing you and your people a great Back to School season, and welcome back!
Cheers,
Mike Fuchigami
PS I'm having a sale! Everything in my TpT store is up to 25% off on Tue Aug 31 through Wed Sep 1 (11:59 PM ET). Make sure to use promo code BTSBONUS21 at checkout.
FYI: This is the cheapest time to get my BACK TO SCHOOL LEARNING SKILLS MEGA BUNDLE. You save $77.77!